#GivingTuesday
Tuesday, December 1, 2020 - Wednesday, December 2, 2020
12:00 am - 12:00 am CDT
Facebook Fundraisers

Help Us Reach Our $50,000 Goal
On Tuesday, December 1, the world will take part in #GivingTuesday, a day of global generosity which encourages people to do good by contributing to organizations and causes they find meaningful. We remain grateful to you for your support of our mission, including those who have financially supported us in the past.
As we've shared throughout the year, the pandemic has had a tremendous impact on both epilepsy research and those who fund it, such as CURE Epilepsy. That's why we've set a goal to raise $50,000 on Giving Tuesday: so that we can continue to promote and fund patient-focused research so that one day, we will find a cure for epilepsy.
Our GivingTuesday Schedule
This year, as with most things in 2020, we have decided to do things differently. To celebrate this global day of giving, we have invited our Education Enrichment Fund (EEF) scholarship recipients to take over our social media and share uplifting stories with you that will uplift your spirits and highlight the important role that CURE Epilepsy plays in driving epilepsy research toward a cure.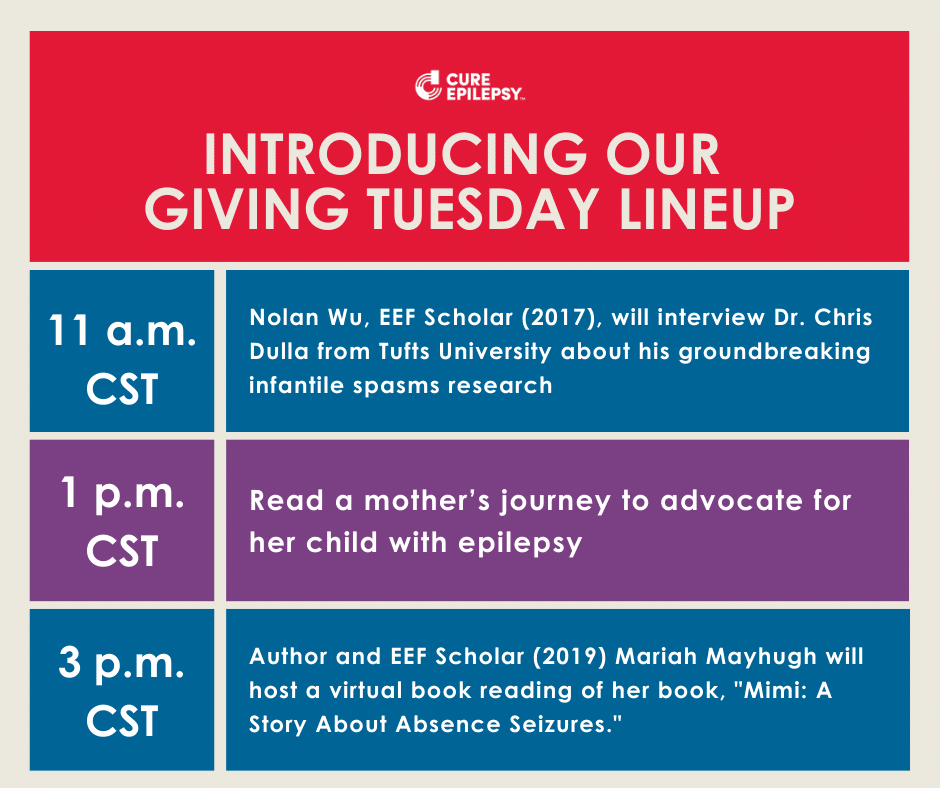 Head over to our Facebook page to participate in this exciting day of family-friendly activities!