CURE Epilepsy is unwavering in our commitment to end SUDEP.
SUDEP is one of the most devastating but least talked about consequences of epilepsy. Every year it impacts over 1 in 1,000 people living with epilepsy (Sveinsson et al. 2020 Neurology), and countless more when you consider these individual's families and friends who suffer untold grief and sadness from the loss of a loved one.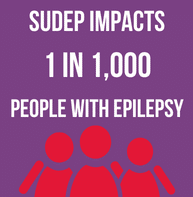 In response to this unacceptable loss, CURE Epilepsy, with the assistance of many parents who were seeking answers, launched the first-ever private research program dedicated to advance the understanding SUDEP and its prevention in the US. Since pioneering the first SUDEP research nearly 20 years ago, CURE Epilepsy has funded 38 grants for a total of $5.3M.
Established in 2004, our cutting-edge SUDEP program impacts include:
"CURE Epilepsy's contribution to understanding the risk of sudden death in epilepsy has been early, sustained, and transformative. From a handful of case reports 20 years ago to over 200 scientific publications in 2021, CURE Epilepsy's support of individual investigators provided the engine to develop advanced basic and clinical collaborators. We all owe CURE Epilepsy our gratitude for its continuing leadership in accelerating this effort."
Jeff Noebels, MD, PhD Baylor College of Medicine
CURE Epilepsy's Legacy of Leadership in SUDEP Research
2004 – Launched a first-of-its-kind SUDEP research program with first grant to Carl L. Faingold, PhD.
2008 – Partnered with NINDS to host the first-ever scientific SUDEP meeting
2009 – Formed the SUDEP Coalition with other leading epilepsy research organizations to facilitate, coordinate, or sponsor individual SUDEP research projects
2010 – Developed the Centers Without Walls concept with NINDS to promote collaborative research to speed the pace of epilepsy research
2012 – Became a founding member of PAME to create broader SUDEP awareness among multiple stakeholder groups
2017 – Awarded the first grants to study the interaction between sleep and epilepsy
2018 – Celebrated CURE Epilepsy grantee Dr. Annapurna Poduri's discovery of a link between an epilepsy gene and Sudden Infant Death Syndrome (SIDS)
2020 – Established a partnership with the Cameron Boyce Foundation
Recent Grant Mechanisms
Through our grant mechanism, CURE Epilepsy selects the most promising research proposals to fund. Recently CURE Epilepsy has funded the following projects to help us achieve our goal of ending SUDEP.
Cardiac and Autonomic Pathological Markers for Arrhythmias and Sudden Unexpected Death in Epilepsy Patients
The CURE Epilepsy Cameron Boyce Foundation SUDEP Research Award was granted to David Auerbach, PhD (SUNY Upstate Medical University). Dr. Auerbach and his team are using analytical tools that are well-accepted in the cardiac field, but new to the field of epilepsy and SUDEP, to identify epilepsy patient populations at risk of cardiac arrhythmias. His team will also test whether these tools can identify people with epilepsy who later die of SUDEP. This study will form part of a comprehensive SUDEP risk assessment tool on markers for each of the proposed biological causes of SUDEP, including cardiac arrhythmias.
The grant was generously funded by The Cameron Boyce Foundation. This is the second year that The Cameron Boyce Foundation has partnered with CURE Epilepsy to help advance the most promising research for epilepsy.
***       ***     ***
P13K Signaling as a Novel Disease Mechanism-Based Target to Prevent or Reduce SUDEP
Christina Gross, PhD and Steven Crone, PhD (Cincinnati Children's Hospital) are using mouse models to test if alterations in a specific genetic pathway in cells, called the P13K/mTOR pathway, lead to breathing abnormalities and ultimately SUDEP. They will also test whether blocking this pathway with a specific inhibitor reduces SUDEP risk factors. The P13k/mTOR pathway is often altered in epilepsy, so studying this in relation to SUDEP could be the first step toward a novel treatment.
***       ***     ***
Defining Breathing Network Neuromodulatory Approaches for Prevention of SUDEP
Nuria Lacuey-Lecumberri, MD, PhD (The University of Texas Health Center at Houston) is seeking to improve the overall understanding of breathing control by identifying those brain areas most important for breathing function. After identifying these areas, Dr. Lacuey-Lecumberri will work to develop neurostimulation techniques that can be used to prevent seizure-induced breathing failure. She hopes to pave the way for the creation of deep brain stimulation devices for breathing rescue as a targeted SUDEP prevention strategy.
***       ***     ***
Optogenetic Rescue of Seizure-Induced Apnea
Ian Wenker, PhD (University of Virginia) hypothesizes that breathing recovery is possible once tonic activity subsides. During his study, he will activate specific neuronal populations of the brainstem to recover breathing. This research will provide insight into how the brain's control of breathing is altered during seizures, in the hope of identifying therapeutic targets for SUDEP.
To learn more about SUDEP, including hearing from bereaved families, learning more about recent research findings, understanding what the risks are and how to mitigate them, please visit our page on SUDEP.