What is SUDEP?
Sudden Unexpected Death in Epilepsy (SUDEP), which occurs when a seemingly healthy person with epilepsy dies for no known obvious reason, is perhaps the most devastating possible consequence of epilepsy. It is estimated that over 3,000 people will die each year from SUDEP and it can happen to anyone with epilepsy, although certain individuals are at a greater risk. While certain steps can be taken to reduce this risk, there is a critical need for continued SUDEP research to understand the underlying biological mechanisms in order to prevent SUDEP.
What Causes SUDEP?
No one knows exactly what causes SUDEP. However, respiratory dysfunction, irregularities in heart rhythm, abnormalities in brain function including irregular EEG patterns and seizure-induced hormone and metabolic changes have all been suggested as potential causes of SUDEP (Surges et al., 2009; Bagnall et al., 2017).
Who is at Risk for SUDEP?
While SUDEP can happen to anyone with epilepsy, some people are at higher risk than others. The greatest common risk factor for SUDEP is having more than three generalized tonic-clonic seizures per year (DeGiorgio et al., 2017). Other top risk factors include: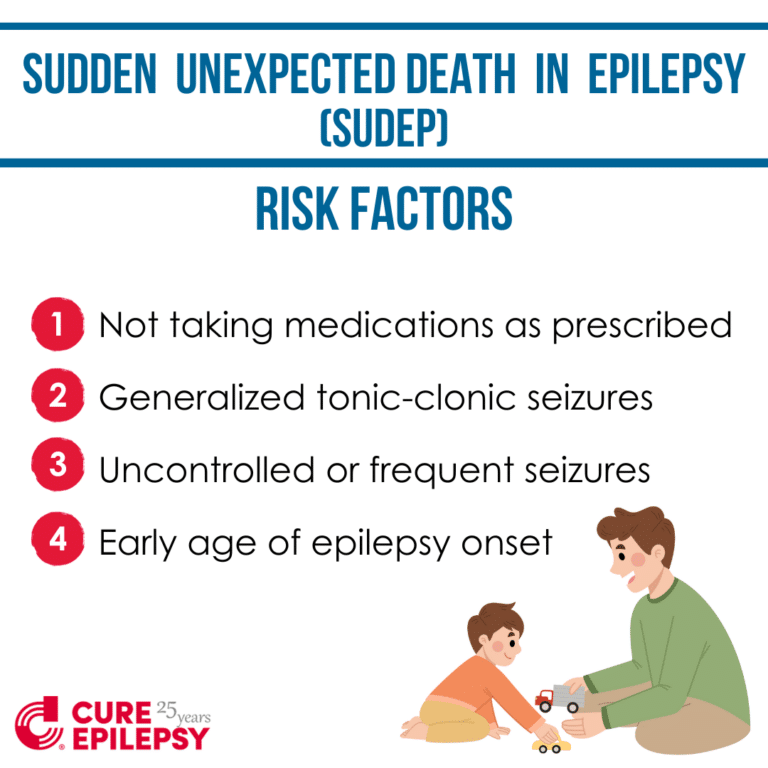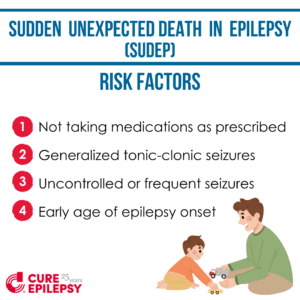 Generalized tonic-clonic seizures
Not taking medications as prescribed
Early age of epilepsy onset
Uncontrolled or frequent seizures
How Do You Mitigate SUDEP Risks?
SUDEP is a risk of epilepsy that no one should have to experience. Luckily, there are ways to try to mitigate your risk of SUDEP, such as: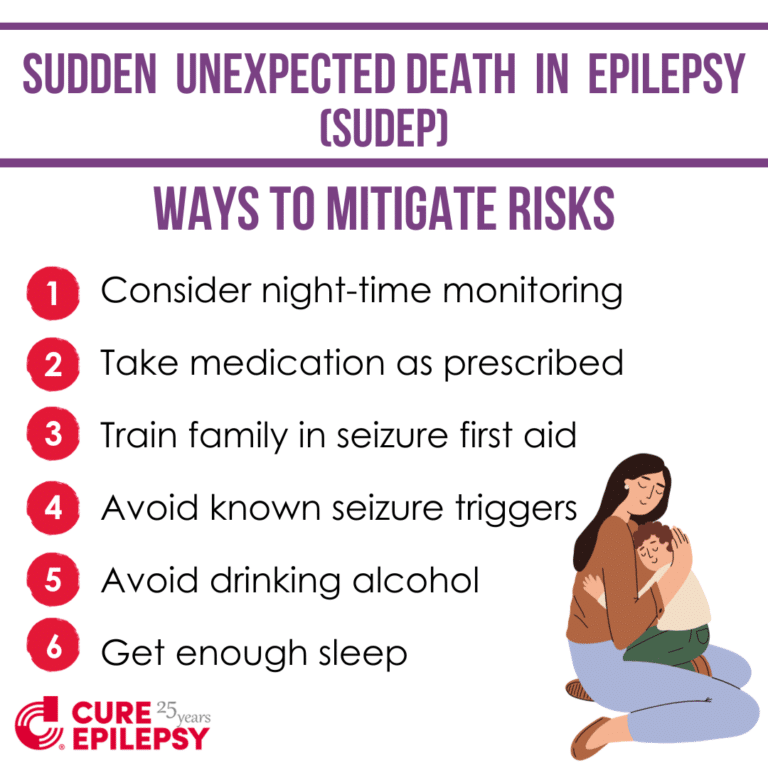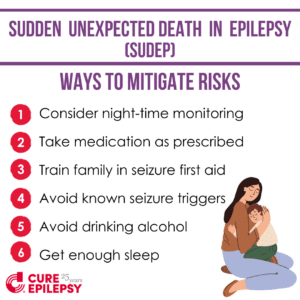 Take medication as prescribed
Avoid know seizure triggers
Get enough sleep
Avoid drinking alcohol
Train family in seizure first aid
Consider night-time monitoring
How is SUDEP Determined?
A death is referred to as a 'SUDEP' when a seemingly healthy person with epilepsy dies unexpectedly and no reason for the death can be found. In most cases, an autopsy is required to rule out other causes of death. The most common criteria used to determine whether a death is due to SUDEP are (Leestma et al., 1997):
The person has epilepsy, which is defined as recurrent unprovoked seizures
The person died unexpectedly while in a reasonable state of health
The death occurred suddenly
The death occurred during normal activity (often during sleep and found in or near the bed)
An obvious medical cause of death could not be determined at autopsy
The death was not the direct result of status epilepticus
FAQ
How often does SUDEP occur?
Two recent epidemiological studies have helped to shed more light on the rates of SUDEP. A 2017 American Academy of Neurology/American Epilepsy Society report that involved an extensive literature review found SUDEP to affect 1/4500 children with epilepsy and 1/1000 adults with epilepsy each year. In contrast, in an examination of SUDEP rates in a cohort of individuals with epilepsy gleaned from the Swedish National Death Registry, Sveinsson et al. found the rate of SUDEP to be 1.11/1000 children less than 16 years of age per year, 1.13/1000 in individuals aged 16-50 per year and 1.29/1000 in individuals over 50 each year. The most important thing to remember is that while the incidence of SUDEP can differ depending upon the population studied, it is greatest in individuals with poorly-controlled seizures.
How often does SUDEP occur in children with epilepsy?
As with adults, the answer generally depends upon how severe the epilepsy is. Some studies have found that risks for SUDEP in children are lower than in adults (Leestma et al., 1997; Harden et al., 2017); however, recent evidence suggests that SUDEP may be as prevalent in children as it is in adults, with about 1.11 cases of SUDEP per 1000 children with epilepsy (Sveinsson et al., 2017; Keller et al., Neurology 2018).
Is SUDEP genetic?
There are some studies that suggest genetic factors play a role, with certain genes implicated in some SUDEP cases (Bagnall et al., 2017). Research investigating the genetic link to SUDEP is still ongoing.
How do I talk with my doctor about SUDEP?
If your doctor has not spoken to you about the health risks associated with epilepsy including SUDEP, schedule an appointment to meet with him or her. Questions to ask include: What risks do I/my family member have for SUDEP? What can we do to reduce the risk of SUDEP?
Can using an anti-suffocation pillow prevent SUDEP?
There is no concrete data to support using these pillows. A recent study found that although so-called "anti-suffocation" pillows may reduce the amount of inspired CO2 compared to conventional pillows (which would seemingly reduce the risk of asphyxia), the total amount of CO2 accumulated with "anti-suffocation" pillows may still reach life-threatening amounts (Catcheside et al., 2014). You may wish to discuss any possible benefits with your doctor.
Would using an audio monitoring device alert us to the possibility of SUDEP?
There are many types of devices out there that can alert seizures, alert changes in heart rate, or alert changes in breathing. Currently, no devices exist that can prevent SUDEP, however, there is some evidence that using a nighttime audio monitoring device may help inform of a major seizure event (Arends et al., 2016). However, research into the development of this technology is still ongoing.
What can I do for support after the death of a loved one?
Contact any of the organizations with websites listed below in the Additional SUDEP Resources section or contact your local Epilepsy Foundation affiliate.
Is it SUDEP if there was no evidence of a seizure?
The person must have a diagnosis of epilepsy for SUDEP to be considered. However, in SUDEP, the death may not be the direct result of a seizure. Although it is clear that a history of uncontrolled seizures increases the risk of SUDEP (DeGiorgio et al., 2017), the absence of evidence of a seizure prior to death does not preclude it from being deemed SUDEP.
Can I donate my loved one's tissues to research?
Yes, in some cases. The North American SUDEP Registry (NASR), an international group of collaborating researchers, collects DNA and brain tissue to advance understanding of SUDEP. The purpose of the Registry is to provide researchers with a body of data that will result in greater understanding of SUDEP, its causes, and possible ways to reduce patient risk. Please call NASR at 855-432-8555 or visit the NASR website for more information on how to participate in this critical study.
You may also contact Dr. Alica Goldman, a neurologist specializing in the field of epilepsy. She and her colleagues at The Department of Neurology at Baylor College of Medicine are conducting a research study called "Ion Channels in Epilepsy*". The aim of the research is the identification of the genetic risk factors that predispose an individual to epilepsy and to sudden death. This study is funded by The National Institutes of Health (NIH)/The National Institute for Neurological Disorders and Stroke (NINDS). In order to perform this research, the investigators need a blood sample or a small piece of fresh tissue from the person who died as a result of the seizure disorder. If you would like to learn more about this study or for participation, please contact Dr. Alica Goldman at (email: agoldman@bcm.edu) or the study coordinator, Eric Raap at (email: raap@bcm.edu; or phone: 713-798-2227). *This epilepsy study listing is for information purposes only; and the reader assumes full responsibility and risk for the appropriate use of the information provided. The information concerning the study was sent to the Epilepsy Foundation by the investigator or staff conducting the research. The Epilepsy Foundation, its affiliates, officers, directors, employees, and agents do not warrant or guarantee the accuracy or completeness of this information and specifically disclaims any liability therefore.
CURE Epilepsy SUDEP Resources
Breathing and SUDEP: Research & the Influence of Seizures on the Respiratory System Webinar: Research suggests that respiratory dysfunction following generalized convulsive seizures is an important cause of SUDEP. Interruptions in breathing can occur during and after seizures leading to an imbalance of carbon dioxide and oxygen in the body.
SUDEP & the Heart: A Multi-System Approach to Understanding Electrical Disturbances: Learn how inherited neuronal or cardiac diseases may lead to electrical disturbances in both the brain and heart, how altered cardiac function may lead to SUDEP, and why it is critical for the epilepsy community to take a holistic approach to fully understand biological changes that ultimately cause SUDEP.
Biological Mechanisms of SUDEP: The events leading to SUDEP are thought to be caused by a destabilization of autonomic cardiorespiratory compensatory processes. Dr. Simeone's research has focused on determining progressive changes in cardiorespiratory function that could increase the probability of SUDEP in preclinical animal models. Identification of temporal biomarkers that can be monitored could lead to opportunities for intervention to postpone or prevent SUDEP.
CURE Epilepsy Discovery: Identification of Environmental Contributions to SUDEP: CURE Epilepsy awardee Dr. Franck Kalume and colleagues at the Seattle Children's Research Institute and New York University sought to identify simple environmental factors that may increase the risk of SUDEP.
CURE Epilepsy's SUDEP Initiative (link to new page once created)
Additional SUDEP Resources
Partners Against Mortality in Epilepsy (PAME): an organization designed to increase SUDEP and other mortalities in epilepsy awareness and to bring together key stakeholders: clinicians, researchers, and families/advocates/lay organizations.
The Cameron Boyce Foundation: a foundation honoring the legacy of Cameron Boyce by aiming to cure epilepsy through funding research, education and awareness campaigns while still supporting causes that were important to Cameron.
Danny Did Foundation: a foundation dedicated to stopping deaths caused by seizures by increasing awareness and providing grants for devices.
North American SUDEP Registry (NASR): an organization that collects DNA, brain, and other tissues from people with epilepsy who have died unexpectedly for scientific studies about the causes of SUDEP.

SUDEP Action: an organization that focuses efforts on providing SUDEP information and support for families, sponsoring SUDEP research, and capturing SUDEP data in the UK and internationally.

SUDEP Aware: an organization that provides information about SUDEP, shares SUDEP stories, and disseminates SUDEP eBrochures.
SUDEP Institute: an institute that carries out SUDEP education and awareness and offers services to help families with epilepsy.