WHAT IS A SEIZURE?
WHAT ARE THE DIFFERENT TYPES OF SEIZURES?
Seizures occur when abnormal electric signals from the brain change the way the body functions. There are many different types of seizures, which may cause anything from convulsions, muscle spasms, brief or prolonged loss of consciousness, strange sensations and emotions, and/or abnormal behaviors. Seizures can be triggered by an isolated incident such as high fever, infection, exposure to toxin, and metabolic abnormalities like hypoglycemia, but are frequently evidence of an underlying medical condition.
There are many different types of seizures, but they can be grouped into two broad categories:
GENERALIZED SEIZURES
Generalized seizures are disruptions in the brain that involve both sides of the brain, and can result in loss of consciousness, falls, or massive muscle contractions. The types of generalized seizures are:
Absence (previously called petit-mal)
Atonic
Tonic
Clonic
Myoclonic
Tonic-clonic (previously called grand-mal)
FOCAL SEIZURES
Focal seizures localized to a specific focal area on one side of the brain and affect approximately 60% of people with epilepsy. "Focal" seizures were once called "partial" seizures, and many still use this term. Focal seizures can also become generalized seizures. The types of focal seizures are:
Motor focal seizures
Sensory focal seizures
Autonomic focal seizures
Psychological focal seizures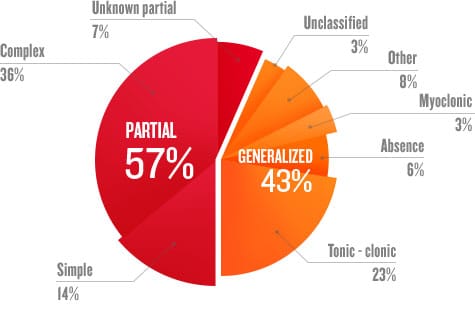 GLOBALLY, THE BURDEN OF EPILEPSY IS HUGE.
Epilepsy costs the United States approximately $15.5 billion each year. The indirect costs associated with uncontrolled seizures are seven times higher than that of the average for all chronic diseases.