A Mind Unraveled Book Signing in Corte Madera
Saturday, March 23, 2019
11:00 am - 12:00 pm PDT
Book Passage, 51 Tamal Vista Blvd, Corte Madera, CA 94925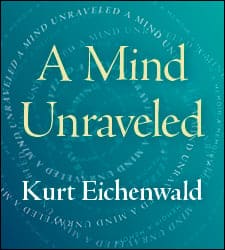 Kurt Eichenwald is heading to Corte Madera to give a reading of A Mind Unraveled: A Memoir, the compelling story of his ongoing struggle with epilepsy, his torturous decision to keep his condition a secret to avoid discrimination, and his ensuing decades-long battle to not only survive, but to thrive.
In addition to reading a passage from A Mind Unraveled, Kurt Eichenwald will take questions and sign books. 50% of the royalties from the purchase of A Mind Unraveled benefit CURE.
"Eichenwald's Story is breathtaking: devastation and inspiration all under one cover."
Susan Axelrod, CURE Founder
Can't make this reading? Eichenwald will also read and sign books at Mrs. Dalloway's in Berkeley. Learn more here.