SUDEP Action Day 2020
Friday, October 23, 2020
12:00 am - 11:00 pm CDT
#SpeakUp2SaveLives
On Friday, October 23 the global epilepsy community will come together for SUDEP Action Day, an international event to raise awareness about Sudden Unexpected Death in Epilepsy (SUDEP). As the name suggests, SUDEP occurs when a seemingly healthy person with epilepsy dies for no known or obvious reason. It is perhaps the most devastating possible consequence of epilepsy.
This year, organizers are asking us to #SpeakUp2SaveLives to encourage vital conversations on epilepsy risks and SUDEP. To do our part, CURE Epilepsy will be posting content each day to help increase awareness and spark important dialogues about epilepsy and SUDEP.
CURE Epilepsy Discovery: Epilepsy Surgery May Be Beneficial in Reducing SUDEP
CURE Epilepsy-grantee Dr. Lisa Bateman and her collaborator, Dr. Catherine Schevon, recently published results from their study comparing the number and causes of death, including SUDEP, in people who had epilepsy surgery versus those who did not undergo surgery[1].
For their study, which was generously funded by the Henry Lapham Memorial Award, the team analyzed mortality in 590 patients who had undergone epilepsy surgery between 1977 and 2014. Deaths in this surgical group were compared to those in a group of 122 people with drug-resistant epilepsy who did not have epilepsy surgery because they were either not considered suitable candidates or refused surgery.
Speaking Up About SUDEP: Two Mothers' Stories
On this episode of Seizing Life, host Kelly Cervantes speaks with Libby Boyce and Jessica Brandes, two mothers who each lost a son to SUDEP. Watch or listen to this moving episode, where the trio discusses transforming tragedy — and grief — into action.
Research Will Lead Us to a Cure
Since its inception, CURE Epilepsy has been at the forefront of epilepsy research, having awarded grants to more than 240 cutting-edge research projects in 15 countries around the world. As the nonprofit leader in epilepsy research, CURE Epilepsy is unwavering in its commitment to fund scientific study and accelerate research to help us achieve our mission: a world without epilepsy.
One such project, led by Dr. Ann Poduri, a pediatric neurologist and director of the Programs in Neurogenetics and Epilepsy Genetics at Boston Children's Hospital, discovered a potential link between epilepsy- and SUDEP-associated SCN1A gene variants and Sudden Infant Death Syndrome (SIDS). In this video, Dr. Poduri discusses how a CURE Epilepsy grant has supported key research into the mechanisms of SUDEP.
Research will lead us to a cure. Share this video with your friends, family, and colleagues on social media using the hashtag #SpeakUp2SaveLives!
Increase Awareness by Sharing These Infographics on Social Media
Far too many people are unaware of SUDEP, its risk factors, and ways to mitigate your risk for SUDEP. That's why we created these infographics: to make it easy for everyone to learn and share this vital information.
Help us spread the word and initiate critical conversations about this awful consequence of epilepsy — share these infographics with your friends and family by posting them on social media.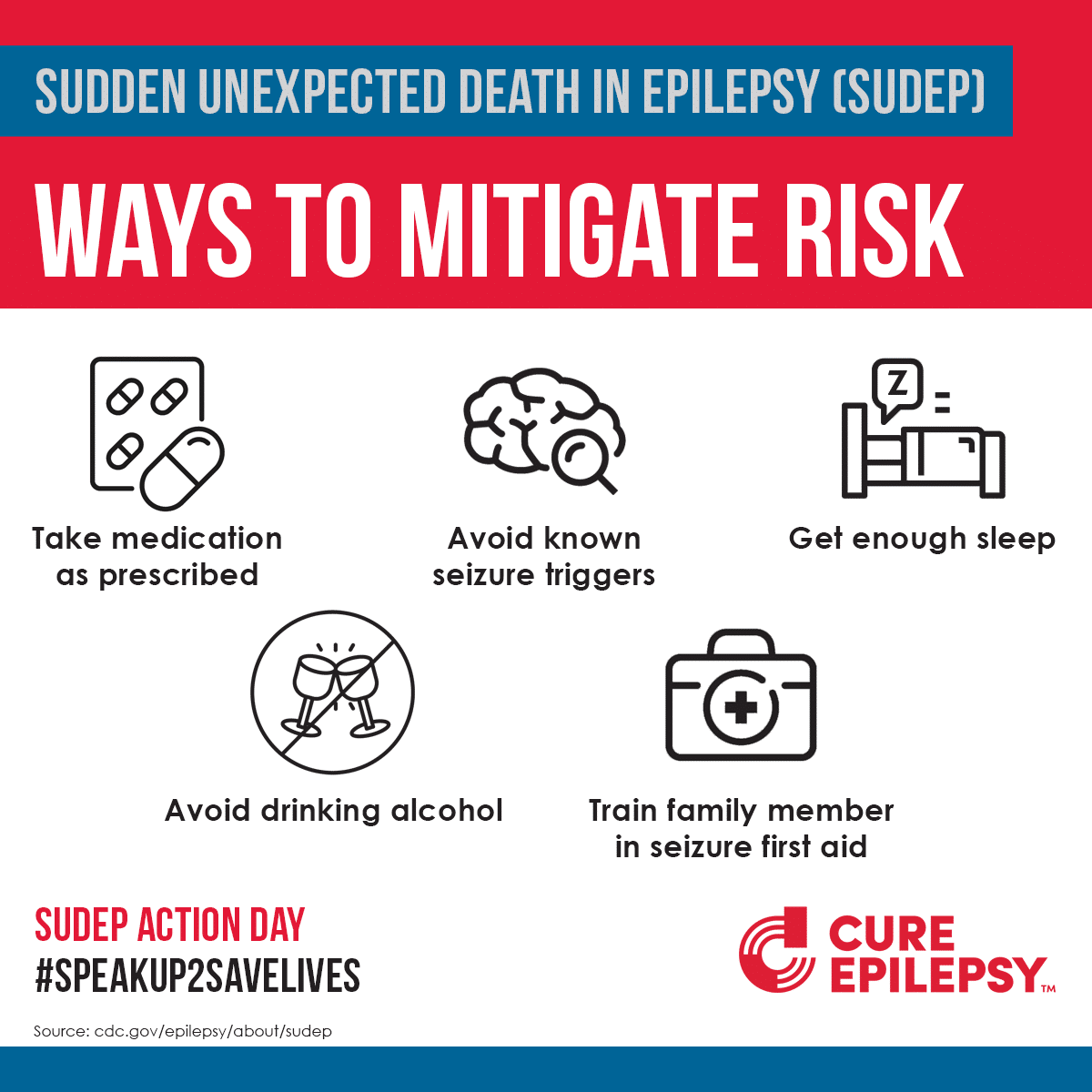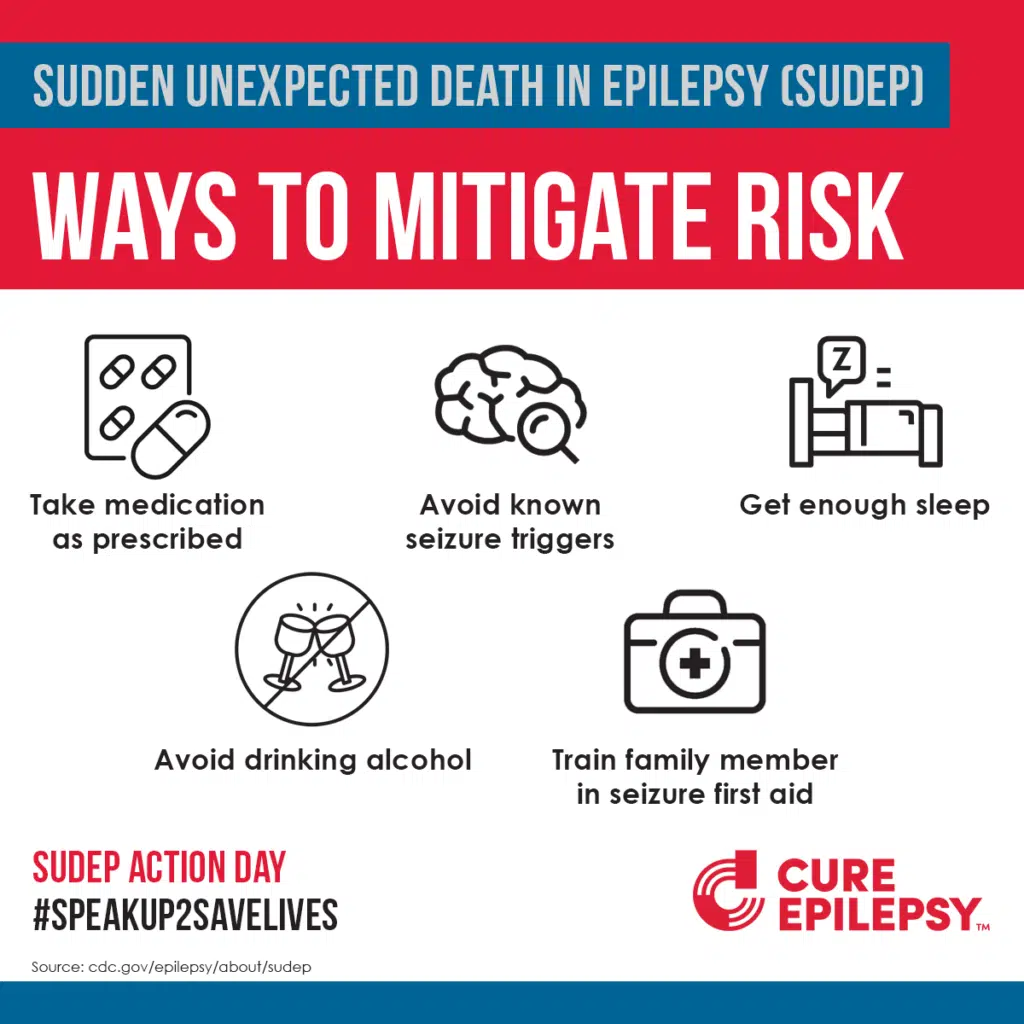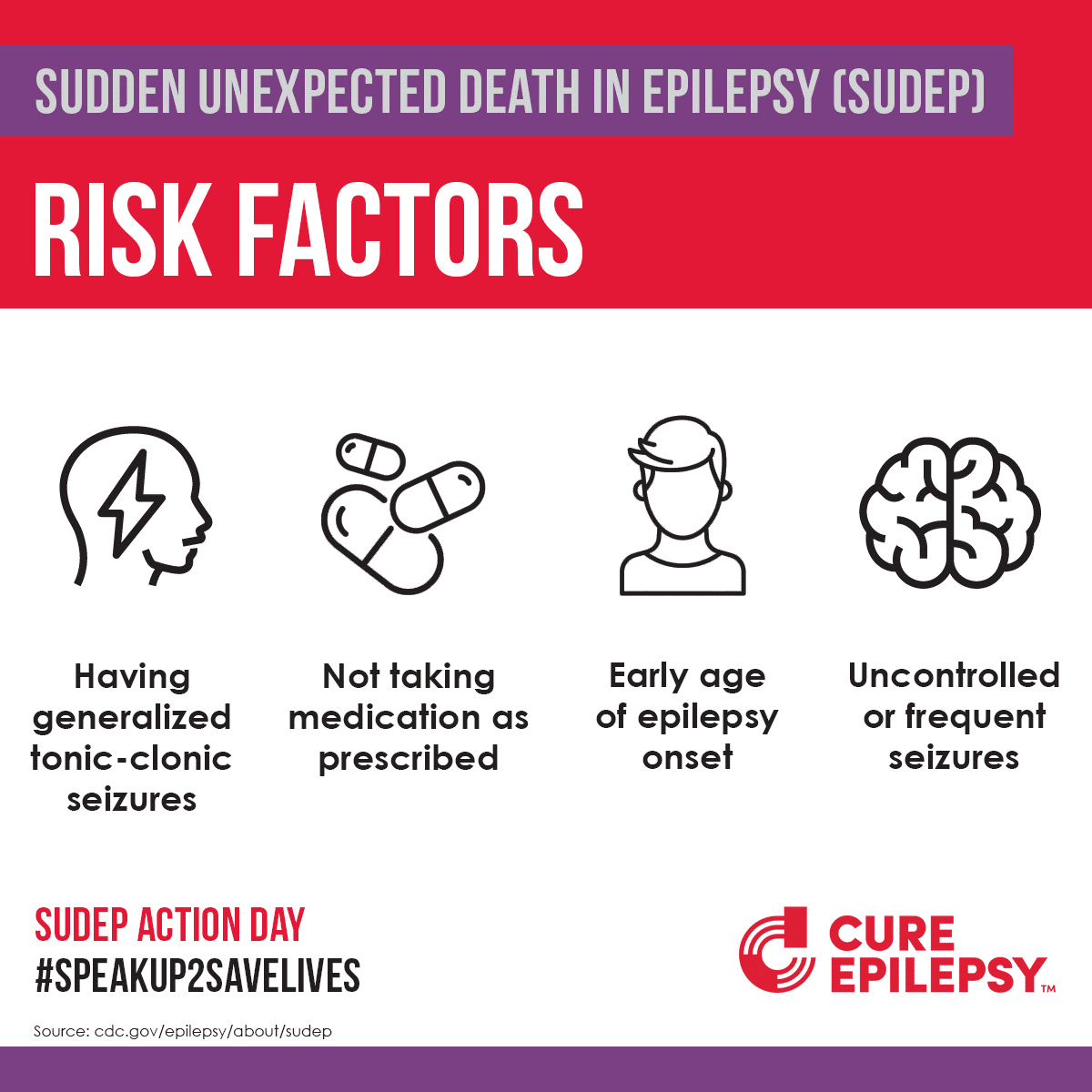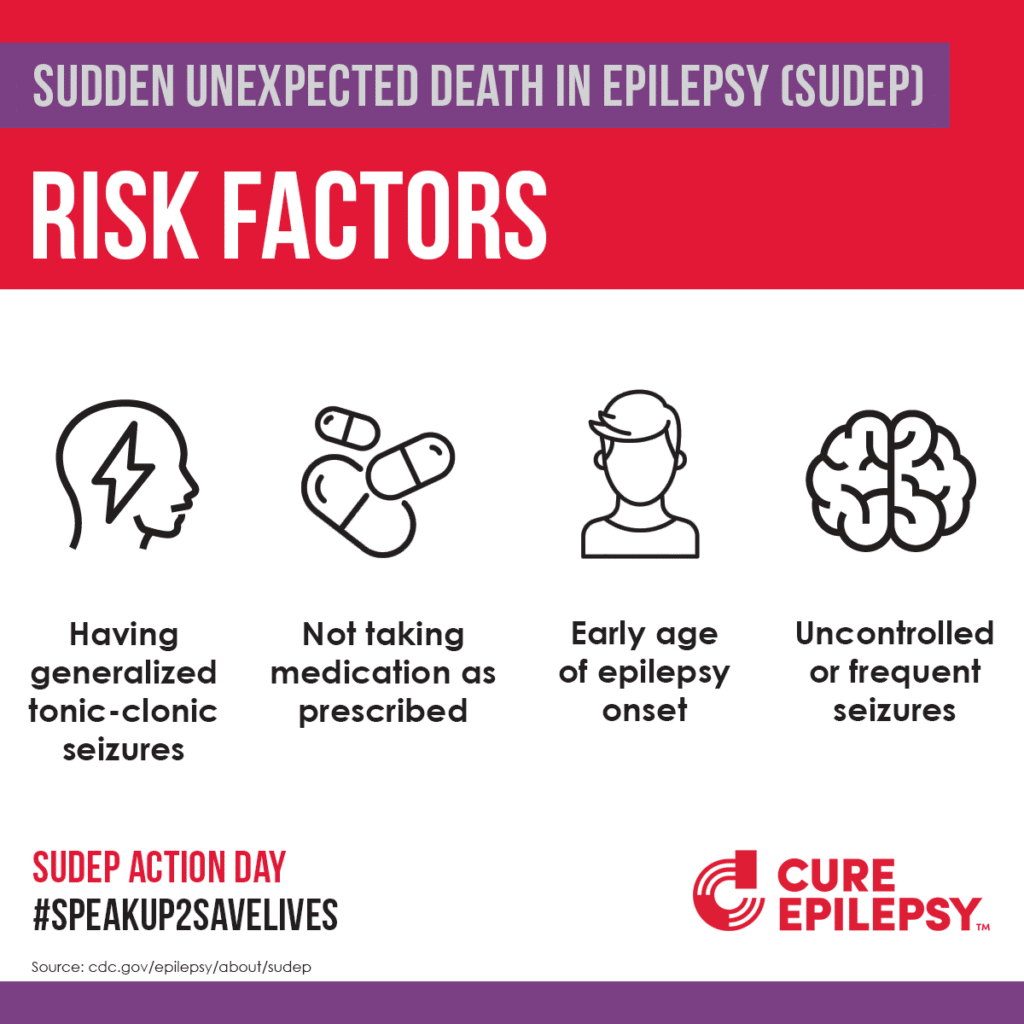 Be sure to check back each day this week for more conversation-starting content! Tomorrow, as part of the Leaders in Epilepsy Research Webinar Series, we're hosting Dr. Rup Sainju, Assistant Professor of Neurology and Medical Director of the EEG Lab at University of Iowa Health Care, for his presentation: Breathing and SUDEP: Research & the Influence of Seizures on the Respiratory System. Register now »
CURE Discovery research which discusses the potential benefits of epilepsy surgery on reducing the risk of SUDEP.
Literature Cited
[1] Casadei C.H., Carson K.W., et. al. All-cause mortality and SUDEP in a surgical epilepsy population. Epilepsy & Behavior 2020 Jul;108:107093