CURE Benefit
CURE's 20th Annual Chicago Benefit
Monday, October 15, 2018
5:30 pm - 8:00 pm CST
Aon Ballroom, Navy Pier, 600 E Grand Ave, Chicago, IL 60611

Thank you to the CURE community of families, researchers, donors, and sponsors who came out to Navy Pier and raised a record-breaking $2.3 million for our mission! We are honored that such a remarkable and dedicated community came together to spread hope and raise critically-needed funding.
This video, played during the Benefit, highlights why research funding remains vital 20 years after CURE's founding, and why we should continue to be Stubborn as Hell.
The Benefit featured memorable musical performances by Rock & Roll Hall-of-Famers Eddie Vedder and Nils Lofgren and the star of Chicago's production of HAMILTON, Miguel Cervantes. In addition, an auction of autographed items and concert experiences provided by Rock & Roll Hall-of-Famers, country music legends, and musical theater stars helped highlight the theme of music and hope.
If you weren't able to join us, but would like to support CURE's mission to find a cure for epilepsy, by promoting and funding patient-focused research, you can donate now.
Check out the photos from this magical evening.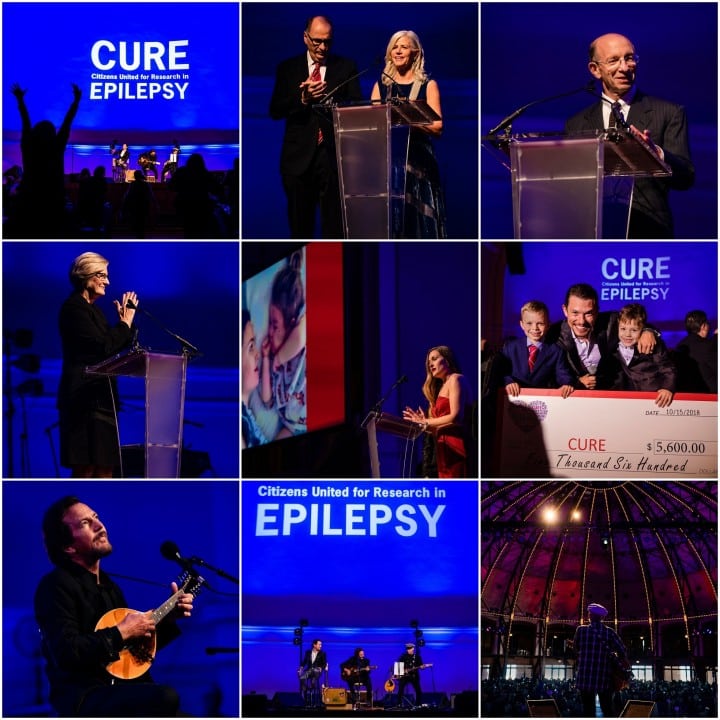 Benefit Chairs
Susan and David Axelrod
Vice Chairs
Mike Axelrod, GPG Strategies
Debra A. Cafaro, Ventas, Inc.
Ken Griffin, Citadel
Randy Mehrberg, Jenner & Block
Richard Price, Mesirow Financial
Dianne Raso, Ann G. and James B. Ritchey Foundation
Hari Ravichandran, Ravichandran Foundation
Michael J. Sacks, GCM Grosvenor
Host Committee
Liz and Mike Axelrod
Ann and Doug Benschoter
Patrice Bugelas-Brandt and Bill Brandt
Debra A. Cafaro and Terrance K. Livingston
Wendy Coleman and James Terman
Shalee and Blake Cunneen
Karen and Larry Grisolano
Rick Jasculca
Carol Jones and Tom Hynes
Bernadette Keller and William M. Daley
Debbie and Cory Lipoff
Sharon O'Keefe and Hal Moore
Linda and Richard Price
Penny Pritzker and Bryan Traubert
Cari and Michael J. Sacks
Michele Schara and Randy Mehrberg
Marla and Eric Sedler
Margaret and Joe Tilson
Volunteers
Catherine Beer
Leon Blair
Monica Brown
Dan Casciato
Georgia Casciato
Meghan Dillow
Lenny Feingold
Pam Feingold
Matthew Filstead
Geoffrey Fishwick
Shirley Fishwick
Betsy Grimm
Vinnie Gupta
Ashleigh Henrichs
Kay Henrichs
Jesse Keig
Jeff Liguori
Vince Loconti
Susan Ly
Abby Marrazzo
Amanda Marrazzo
Dan Marrazzo
Emily Marrazzo
Tony Marrazzo
Ronnie McCarron
Nancy O'Neill
Caroline Pratt
Mary Pratt
Maureen Rizzi
Harper Robinson
Jenna Rummelhart
Sandy Saltiel
Linda Smith
Linda Sudlesky
Violet Szczebak
Steve Trombetta
Scott Tsai
Jenny Whitlock
With special thanks to our volunteers from Mesirow Financial
Sumit Desai
Andrew Hitt
Jason Macek
Kristi Macek
Maulik Patel
Michael Sefton
Ketan Shah
 Silent Auction Winners
Gerald Beeson, "Springsteen on Broadway" Experience and Guitar Signed By Bruce Springsteen & The E Street Band
Richard Jascula, Trace Adkins Signed Guitar
Michael Nelson, Toby Keith Signed Guitar and Concert Tickets
Allen Fisher, Keith Richards Signed Guitar
Karen Dixon, James Taylor Signed Guitar
Lisa Cotton, Eddie Vedder Signed Guitar
Thad Wong, Eddie Vedder Signed Guitar
Ajay Shah, Paul Simon Guitar with Personal Message
Richard Jasculca, Cheap Trick Signed Drum Head
Laura Wise, Eric Church Signed Guitar and Concert Tickets
Greg Ahern, 3 Doors Down Signed Guitar
Sherry Cotton, HAMILTON in Chicago VIP Experience
In-Kind Sponsors
3 Doors Down
Karen Lynn Accattato and Associates
Trace Adkins
AKPD Message & Media
The Allerton Hotel
Mike Axelrod
Kelly and Miguel Cervantes
Cheap Trick
Eric Church
David Yurman
Earhole Studios
The Eli's Cheesecake Company and Maureen and Marc Schulman
Fleur De Lis
Suzanne and Albert Friedman
Friedman Family Foundation
John Gabrysiak
Toby Keith
Kivvit
Cory Lipoff
Amy and Nils Lofgren
Manny's Cafeteria and Delicatessen
Misericorida Heartzingers Choir
Odd Machine
Keith Richards
Second City Sound
Sidley
Paul Simon
Jasculca Terman and Associates, Inc.
James Taylor
Eddie Vedder
Terlato Wines
Walter Payton College Prep Jazz Orchestra
Wansas Tequila