Epilepsy Awareness Day at Disneyland
Monday, November 4, 2019 - Wednesday, November 6, 2019
10:00 am - 8:00 pm PDT
Disneyland Resort, 1150 Magic Way, Anaheim, CA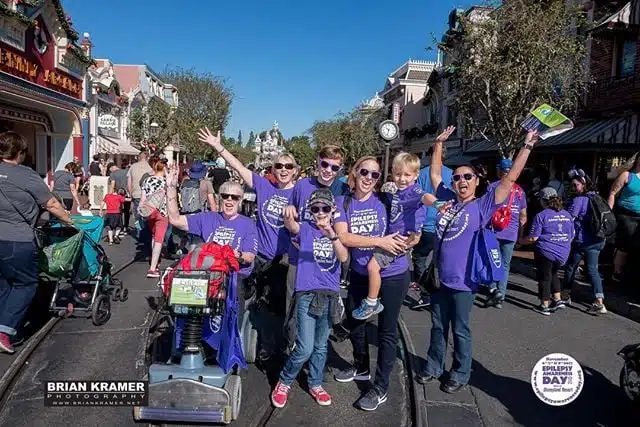 Let's paint Disneyland purple at the 7th Annual Epilepsy Awareness Day at Disneyland Resort! This family-friendly event on November 4-6 unites epilepsy patients, families, doctors, researchers, and organizations.
At the CURE booth, you can learn about the latest developments in epilepsy research and win the opportunity to share your story on stage!
Each expo day, CURE will interview researchers and clinicians from around the country. They will share their insights on a wide range of topics in the field of epilepsy. Drop by our booth in the morning to see the schedule of who will be speaking when.
Additionally, share your story about how a cure for epilepsy would change your life, and be entered to win the chance to be interviewed live! Each day, five lucky people who've shared their "When You Wish Upon A CURE" story will be selected to be filmed live.
CURE will also host two informational sessions featuring a panel of expert clinicians and researchers in the field of epilepsy.  This will allow attendees an opportunity to engage directly with the panel through an interactive Q&A portion.
The first session titled "The Changing Landscape: New Epilepsy Therapies" will cover the latest research in new treatments for epilepsy and will be held on Monday, November 4th from 3:30pm to 4:30pm in the Sleeping Beauty Pavilion .  Our experts will cover topics such as CBD use, rescue medications that have recently been approved and those in the pipeline, devices, and new research in surgical approaches to treating epilepsy.
The second session titled "Clinical Trials for New Therapies: Understanding Your Role" (Tasia will modify) will be held on Tuesday, November 5th from 10:30am to 11:30am in the Sleeping Beauty Pavilion. This session will cover how the clinical trial process works from start to finish and beyond, explain commonly used terms in clinical trials, talk about issues such as privacy and confidentiality that participants should be aware of, and discuss how the patient community can lend their voice to the process. You will also have the opportunity to hear from people who have participated in trials.
Both sessions will be 60 minutes long and will include a Q&A session where you will have the opportunity to ask questions such as:
Are rescue meds only for those individuals who experience seizure clusters?
Is it safe to use CBD supplements?
What are the benefits and risks associated with participating in clinical trials?
At the conclusion of each session, you will have time to interact with the panelists and/or the CURE team. We hope that you can join us!