Go the Distance for CURE – Megan Cullen's 5K Virtual Run/Walk
Saturday, June 13, 2020

Anywhere!
Race Times
Thank you to everyone who turned out to Go the Distance for CURE!
Sean McCarthy, 28:19:00
Joey Freebairn, 24:23:00
Annmarie Charno, 24:23:00
Kerri Hertz, Biked 12 miles
Kayla McEachern, 31:15:00
John Turman, 67:00:00
Stephanie Roach, 67:00:00
Kat Salemno, 46:39:00
Caitlin Tobin, 69:39:00
Claudia Cuddy, 50:00:00
Lucinda Studley, 63:46:00
Francesca Passudetti, 56:09:00
Victoria Marciniak, 56:03:00
Megan Cullen, 42:00:00
Mike Cullen, 25:32:00
Lillian Smith, 28:43:00
Ben Hertz (and Hewey) 29:01:00
Monu Soni, 07:36:00
Joe McCarthy/Maryanne Gawlinski, 60:00:00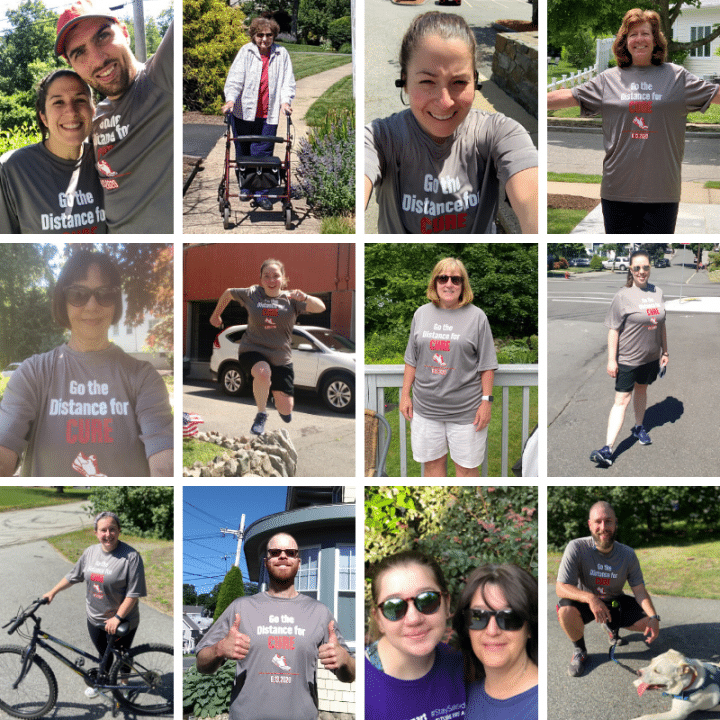 Submit Your Finishing Time
Original Event Info
No matter where you are, CURE Champion Megan Cullen is challenging you to Go the Distance for CURE! Run or walk in this virtual race to raise critically-needed funds for epilepsy research while spreading positivity and awareness.
Racers who sign up by Wednesday, 5/13 will receive an exclusive virtual race t-shirt. After the race, submit your time using the form below!
Why Megan Organized this Virtual Race
Megan had a regular childhood including playing with friends, working hard at school, and bossing her little brothers around. She was always organized and a type A personality. That is why it was a surprise in her senior year of high school that she totally lost control of her body. She started having what she and her parents not so affectionately called "the shakes." It always happened in the morning. She would drop or even throw something she was holding, her leg muscles sometimes buckled, and she would let out what sounded like a loud gasping hiccup. She had always relied heavily on a good night's sleep and figured this was her body's way of warning her she had not slept enough.
Megan and her parents addressed this with her pediatrician, who quickly sent her for a neurology consult. The neurologist took her history, sent her for an EEG and concluded that she fit all the criteria for Juvenile Myoclonic Epilepsy with the exception of never having had a seizure. He defined her "shakes" as myoclonus and said they were triggered by lack of sleep.
Epilepsy and seizures were both scary and unfamiliar terms to Megan and her family. Megan continued on, unsure of the impact of this mystery. Until that third week of college, when she was struggling to get her hair into a ponytail and the next thing she could remember, she was surrounded by roommates and EMS from her college.  That was it, she officially had epilepsy. She was nervous and scared as were her parents (200 miles away.) They worked with her neurologist to get her medication and luckily she had so many forms of support, she was bound to get through this.
College proved to be a difficult time. Given that her seizures were triggered by lack of sleep and some students were not always respectful of quiet hours, she did have many more seizures throughout those years. Her neurologist helped her to find a better medication and years later found a perfect one for her. Now, Megan's epilepsy has been successfully controlled. She came through it thanks to love, support, medication and luck!
Unfortunately, there are many people with epilepsy who never find that perfect medication. There are people who get injured during a seizure or who may not even survive their condition. CURE is here to research solutions for them. CURE is keeping hope alive for those who struggle day in and day out.