Jeavons Syndrome Awareness Day 2023
Monday, November 13, 2023

Join us in marking the first Jeavons Syndrome Awareness Day in 2023! CURE Epilepsy is honored to start this awareness day to help shed light on one of the many rare epilepsies. Learn more about Epilepsy with Eyelid Myoclonia (EEM), formerly known as Jeavons syndrome, and share resources below with your community to help raise awareness. All the graphics found on this page can be accessed here so you can easily download and share them. Don't forget to wear blue on November 13 for Jeavons Syndrome Awareness Day!
Why is awareness important?
Jeavons syndrome is a rare epilepsy (so it is less known) and it is commonly misdiagnosed!
Download infographics on Jeavons syndrome here to share with your family and friends to help raise awareness.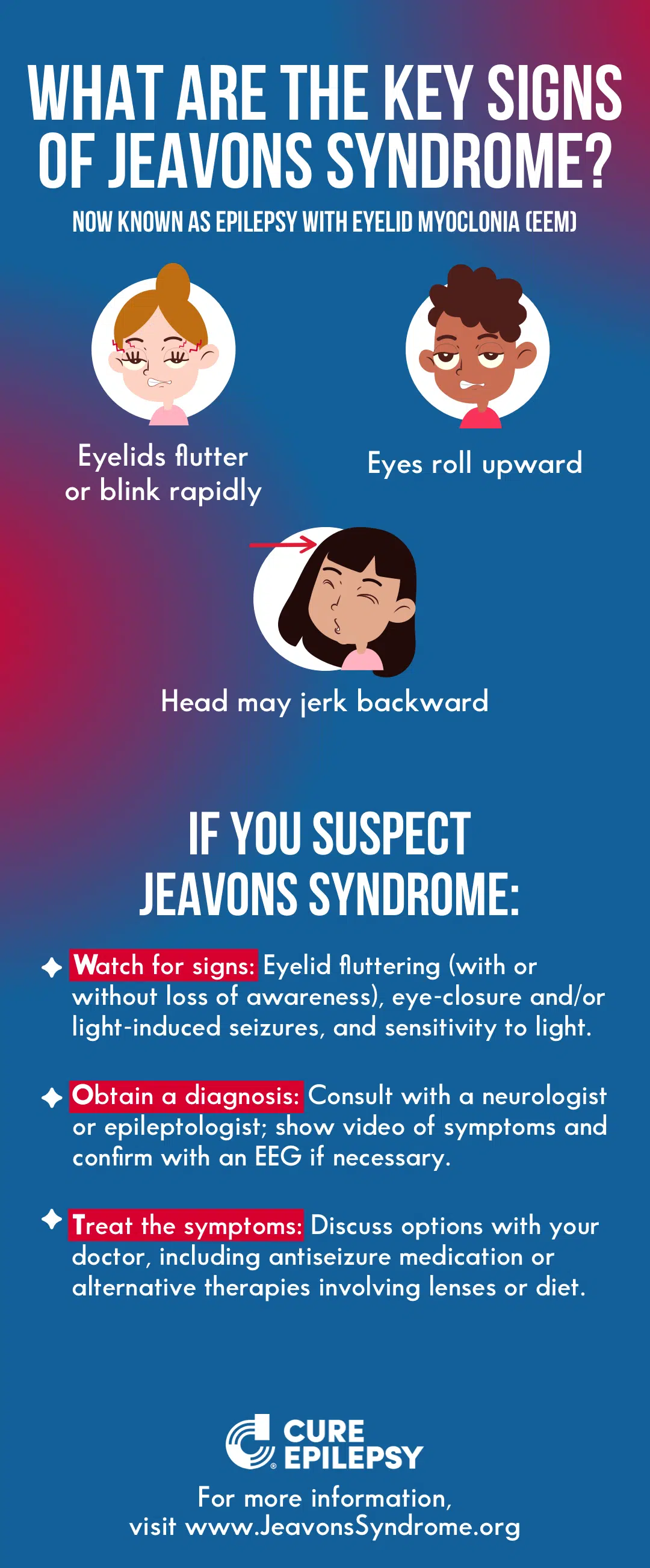 What is Jeavons Syndrome?
Epilepsy with eyelid myoclonia (EEM), also known as Jeavons syndrome, is a rare, generalized epilepsy syndrome with onset usually occurring between 1 to 15 years of age, with peak onset between 6 to 8 years of age. Children typically present with prominent eyelid myoclonia, which is a jerking or flickering up of the eyelids associated with the eyes rolling up, typically occurring many times in a single day. Eyelid myoclonia may be associated with absence seizures and eye closure sensitivity. Other seizure types may be present in people with EEM as well. Females are affected more than males at a 2:1 ratio.
Seizing Life Podcast Episode
Hear about Jeavons syndrome from a young woman with Jeavons syndrome who was also a summer intern for CURE Epilepsy.
Webinar: Epilepsy with Eyelid Myoclonia (EEM), Formerly Known as Jeavons Syndrome: Diagnosis and Treatment of this Rare Photosensitive Epilepsy
Watch the recording or read the transcript of our webinar on Jeavons syndrome. In this webinar, attendees learn how to recognize the clinical features of EEM, as well as how to differentiate it from other epilepsy syndromes.  The webinar also reviews the consensus first-line treatments for EEM.
CURE Epilepsy Discovery: CURE Epilepsy's Efforts Lead to an Increased Understanding of Epilepsy with Eyelid Myoclonia (EEM)
Read one of the latest CURE Epilepsy Discoveries that is focused on CURE Epilepsy's work on EEM.