SUDEP Action Day 2023
Wednesday, October 18, 2023

#MySafetyMatters #SUDEPActionDay2023
On Wednesday, October 18 the worldwide epilepsy community will come together for SUDEP Action Day, an international event to raise awareness about Sudden Unexpected Death in Epilepsy (SUDEP). SUDEP, perhaps the most devastating possible consequence of epilepsy, occurs when a seemingly healthy person with epilepsy dies for no known or obvious reason.
This year's theme is My Safety Matters – #mysafetymatters
Unfortunately, not everyone diagnosed with epilepsy is informed about SUDEP, the risks of SUDEP, or how to mitigate their risks. SUDEP Action Day is aimed at helping raise awareness of SUDEP and inform the epilepsy community as well as the general public about steps one can take to reduce their risks. Raising awareness, increasing education, and starting conversations are all steps needed to help bring an end to SUDEP.
As the leading private funder of SUDEP research, CURE Epilepsy is honored to support SUDEP Action Day and will be posting content each day during the week of October 16 to help increase awareness and spark important dialogues about epilepsy and SUDEP.
Research will lead us to a cure. CURE Epilepsy encourages you to share the resources below with your friends, family, and colleagues on social media using the hashtag #SUDEPActionDay2023.
Increase SUDEP Awareness and Share These Infographics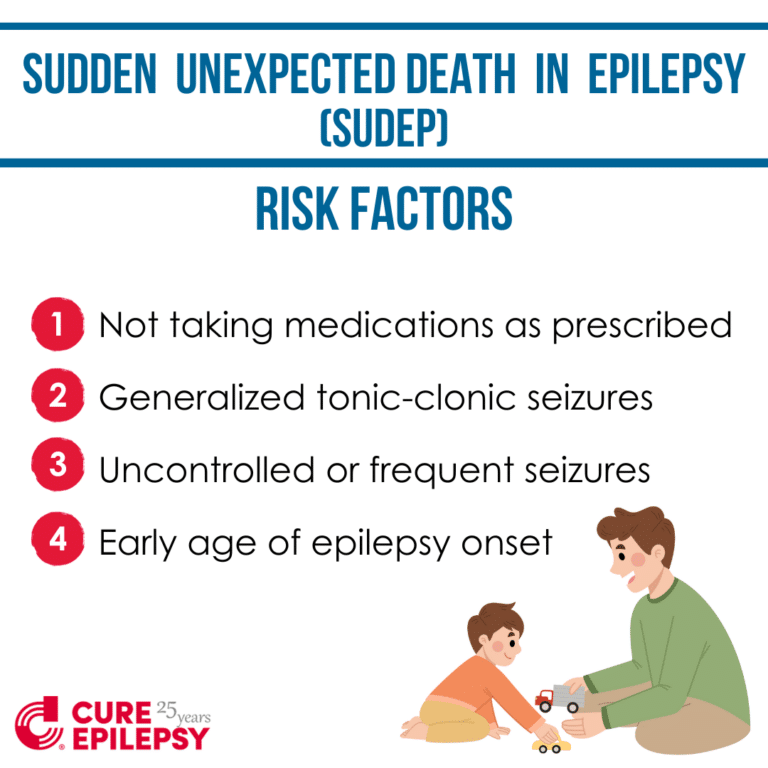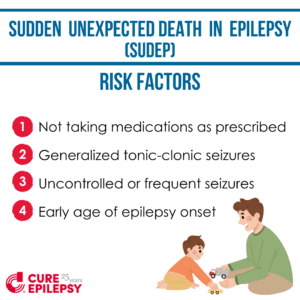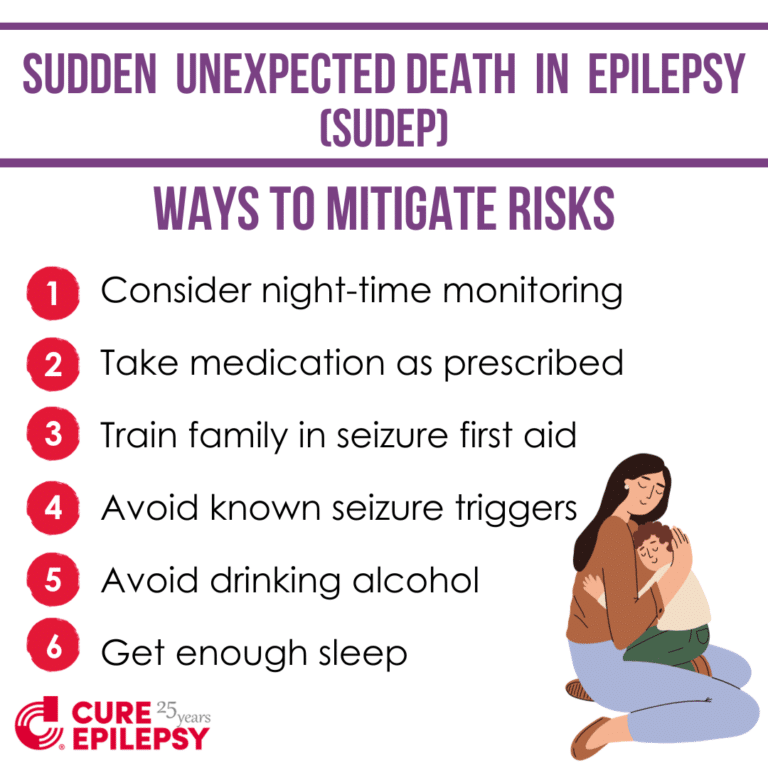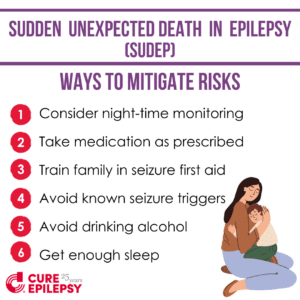 Many people are unaware of SUDEP, its risk factors, and ways to mitigate their risk for SUDEP. That's why we created these easy to understand graphics with vital SUDEP information.
Help us spread the word and initiate critical conversations about this awful consequence of epilepsy — share these infographics with your friends and family by posting them on social media.
1 is 1 Too Many
It is estimated that over 3,000 people will die each year from SUDEP and it can happen to anyone with epilepsy. At CURE Epilepsy we are unrelenting in our mission to find a cure for epilepsy as well as see an end to SUDEP. This year, for SUDEP Action Day, CURE Epilepsy is highlighting some of the many stories of individuals who have passed due to SUDEP within our community. Visit our Facebook or Instagram on Friday, October 20 to see more individuals within our community who have passed due to SUDEP.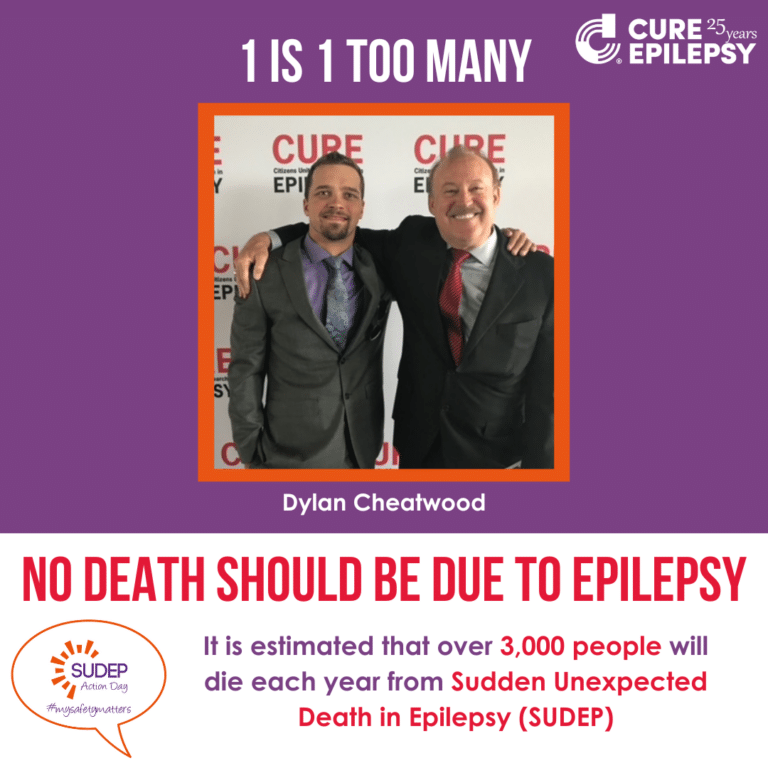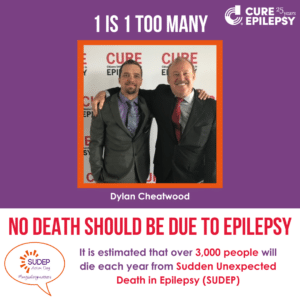 Webinars:
SUDEP & The Heart: A Multi-System Approach to Understanding Electrical Disturbances
In this webinar, Dr. David Auerbach, PhD, an Assistant Professor of Pharmacology at SUNY Upstate Medical University, helped viewers learn how inherited neuronal or cardiac diseases may lead to electrical disturbances in both the brain and heart, how altered cardiac function may lead to SUDEP, and why it is critical for the epilepsy community to take a holistic approach to fully understand biological changes that ultimately cause SUDEP.
Breathing and SUDEP: Research & the Influence of Seizures on the Respiratory System
Research suggests that respiratory dysfunction following generalized convulsive seizures is an important cause of SUDEP. Interruptions in breathing can occur during and after seizures leading to an imbalance of carbon dioxide and oxygen in the body. The ability to restore normal breathing patterns and remove excess carbon dioxide may be weakened in some people with epilepsy, potentially increasing their risk of SUDEP.
New Seizing Life Episode
In observance of SUDEP Action Day, we speak with Dr. Richard Goldstein, Associate Professor of Pediatrics at Harvard Medical School, about the program he directs conducting research into both Sudden Unexpected Death in Pediatrics (SUDP) and the grieving process of bereaved parents.
Dr. Goldstein explains how the interdisciplinary team at Robert's Program utilizes current medical knowledge and methods to try to provide answers to bereaved families while simultaneously conducting research into the various occurrences of SUDP, such as SUDEP (Sudden Unexpected Death in Epilepsy), SIDS (Sudden Infant Death Syndrome), and SUDI (Sudden Unexpected Death in Infancy), to uncover the similarities and connections between them. He reveals some of these connections and discusses what they may mean to both epilepsy research and the larger issue of child mortality.
CURE Epilepsy Discovery on Advances in SUDEP Research
A CURE Epilepsy Discovery that focuses on new SUDEP findings thanks to research funded by CURE Epilepsy.