CURE Signature Event
UNITE to CURE Epilepsy 2023
Wednesday, September 6, 2023 - Friday, September 8, 2023

UNITE to Learn. UNITE to Share. UNITE to Give. UNITE to CURE Epilepsy.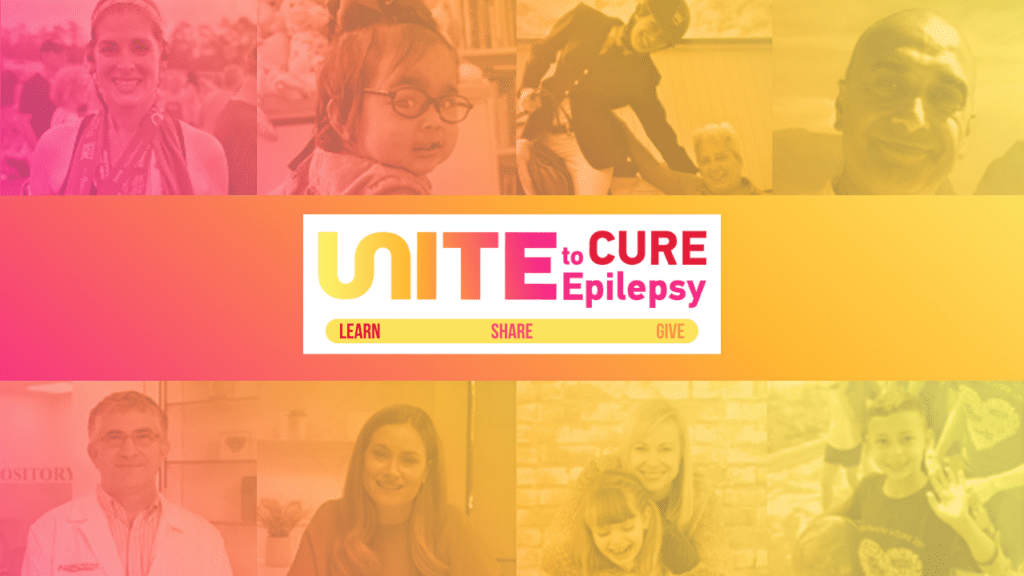 Join us for a three-day virtual experience culminating in a Day of Giving on Friday, September 8, which marks 25 years since CURE Epilepsy's incorporation date. Stream live educational content, engage with other community members, and come together with other CURE Epilepsy advocates to raise funds for critical epilepsy research. For our Day of Giving, our goal is to hit 500 donors of $25 or more across all 50 states! And, we are excited to announce that a portion of the dollars raised will be matched thanks to the generous contributions of families in our community. You will hear more about these families' stories the week of UNITE. Only by joining together will we achieve our vision of a world without epilepsy.
Visit the Partner Resource Center to see resources our partners and sponsors have provided for our community.
Scroll down to see the itinerary for the full three days, or jump to sections by clicking below:
Day 1: Learn
Day 2: Share
Day 3: Give
Wednesday, September 6 – Learn
Want to learn more about epilepsy? Check out some of the resources below:
Understanding Epilepsy
Webinars
Recent Research Discoveries
Thursday, September 7 – Share
Hear more stories of those living with epilepsy below:
If you are living with epilepsy or a caregiver to someone living with epilepsy and are in need of support, know there are support groups available in person and virtually. You can learn more here.
Friday, September 8 – Give
Why I Became a CURE Epilepsy Champion: A Story of Giving From Erin

Guest: Erin Monast, CURE Epilepsy Champion
CURE Epilepsy Champion, Erin Monast, shares the story of her daughter, Reagan. Despite challenges in controlling Reagan's epilepsy, Erin continues to raise critical funds and awareness through her annual "Reagan's Run" event benefitting CURE Epilepsy. The Monast family firmly believes research holds the hope of a cure for Reagan and the 3.4 million other Americans who live with epilepsy.
Learn more about why CURE Epilepsy was founded and why our donors continue to support our mission:
Inspired by the many individuals highlighted during UNITE to CURE Epilepsy 2023? Learn how to become a CURE Epilepsy Champion and help us raise money for a cure.
Make a donation to bring us closer to a world without epilepsy.