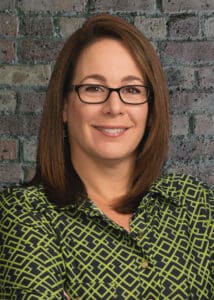 Chicago (April 8, 2019) – Citizens United for Research in Epilepsy (CURE) announced today the appointment of Beth Lewin Dean, MBA, MPA as the new Chief Executive Officer. Beth brings 17 years of extensive experience within the epilepsy field, which has been driven by her strong commitment to understanding the needs, aspirations and hopes of patients and their loved ones.
"We are absolutely delighted to bring Beth to CURE," said Ann Benschoter, CURE Board Chairman. "The board and I were impressed with Beth's strong track record of engaging with physicians, researchers, thought leaders, and patient advocacy groups. Additionally, we were attracted by her passion for volunteerism and her dedication to patients that is illustrated by her many years of partnering with the epilepsy nonprofit sector."
Following a national search, the search committee selected Beth. Not only did she demonstrate strong analytical skills and leadership capabilities, but the process also revealed her deep belief in CURE's mission. Colleagues have praised her for both her strategic leadership and her ability to foster collaboration and strong teamwork in both the corporate and voluntary sectors.
Beth's background combines exceptional academic and professional credentials. After graduating from Cornell College, Beth continued her education, earning an MPA from Indiana University and an MBA from the University of Chicago Booth School of Business. Her professional experience includes marketing executive roles at Lundbeck and Abbott Laboratories where she was well-known and respected for her work managing brands and the relationships formed with patient groups and disease-state thought leaders.
"I am highly motivated by CURE's mission of advancing science and research that will lead to a cure," said Beth Lewin Dean. "I look forward to working with the entire CURE community of supporters, patients, families, and researchers to continue to accelerate CURE's research efforts toward our shared goal—a cure for epilepsy."
"Beth's impressive background and enthusiasm will help accelerate CURE's mission to cure epilepsy, transforming and saving millions of lives," said Susan Axelrod, CURE founder. "We are thrilled that Beth will be leading CURE forward."
ABOUT CURE
The mission of Citizens United for Research in Epilepsy (CURE) is to find a cure for epilepsy by promoting and funding patient-focused research. Since its inception in 1998, CURE has raised over $60 million to advance its goal of no seizures and no side effects. To date, CURE has awarded more than 220 cutting-edge research projects in 15 countries around the world. CURE is the leading non-governmental agency fully committed to funding research in epilepsy. For information about CURE, please visit our website at: www.cureepilepsy.org or contact us at: info@CUREepilepsy.org.