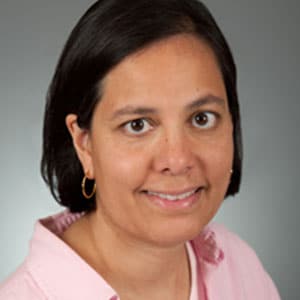 This grant is generously supported by the Isaiah Stone Foundation.
A potential link between epilepsy- and SUDEP-associated SCN1A gene variants and Sudden Infant Death Syndrome (SIDS) has been discovered by CURE Grantee Dr. Annapurna Poduri of Boston Children's Hospital.1 Her work, generously supported by the Isaiah Stone Foundation, may provide insight into SIDS and support genetic evaluation focused on epilepsy genes in SIDS. In Dr. Poduri's analysis of 10 infants who died of SIDS, two children were found to have disease-associated variants in the SCN1A gene. Despite finding variants in an epilepsy-related gene and hippocampal lesions that are commonly associated with temporal lobe epilepsy, these children had no history of seizures or epilepsy.
SIDS occurs when a seemingly healthy baby dies suddenly. The sudden death of a child is a tragic occurrence and even more distressing when there is no known cause. There are several categories of this type of death: SIDS if the child is less than one year old; Sudden Unexplained Death in Childhood (SUDC) if the child is greater than one year old; and Sudden Unexpected Death in Epilepsy (SUDEP) if the child has epilepsy.
These types of childhood death are traditionally thought of as separate entities and the causes behind them are largely unknown. However, by finding a link between SIDS and SCN1A mutations,2,3 Dr. Poduri and her colleagues have deepened our understanding of the potential genetic factors behind sudden death in children. This research also suggests epilepsy genes may be more widely important in cases of sudden death in children than originally thought.
In fact, as an integral part of her CURE-funded work, Dr. Poduri and her colleagues in Robert's Program on Sudden Death in Childhood set out to understand the genetic basis of these sudden childhood deaths, with the hypothesis that there may be a common mechanism between some cases of SIDS, SUDC, SUDEP, and epilepsy. This hypothesis is based on neuropathological abnormalities seen in the hippocampal region of approximately 40% of cases with SIDS and SUDC.4
Although typically considered rare, more children die each year from Sudden Unexplained Death in Pediatrics (SUDP), a category that includes SIDS and SUDC, than from childhood cancer or heart disease.5 Understanding the reasons behind these types of death is important in understanding how to prevent them.
Besides finding variants in the SCN1A gene in two children who died of SIDS, Dr. Poduri and her colleagues also found variants in the epilepsy-related SCN1B gene in two siblings who died suddenly and unexpectedly.6 These important findings identify additional epilepsy-related genes which may underlie some cases of sudden death in children, supporting the team's idea that there are shared mechanisms between SIDS, SUDC, and epilepsy.
In the future, Dr. Poduri and her colleagues plan to continue their analysis of potential epilepsy-associated genetic variants, which may contribute to sudden childhood death, to better understand causes of these devastating occurrences. They are hopeful their findings will apply to children with and without epilepsy who may be at risk for sudden death. Their overall goal is to identify not only genetic risk factors for SIDS and SUDC, but also other means of identifying children at risk for sudden death. This work could lay the foundation for strategies which can be systematically implemented to prevent these deaths from occurring.
1 Brownstein CA et al. SCN1A variants associated with sudden infant death syndrome. Epilepsia 2018; 59(4):e56-e62.
2 Escayg A and Golding AL. Sodium channel SCN1A and epilepsy: mutations and mechanisms. Epilepsia 2010; 51(9):1650-1658.
3 Goldman AM. Mechanisms of sudden unexpected death in epilepsy. Curr Opin Neurol 2015; 28(2):166-174.
4 Kinney HC, Poduri A et al. Hippocampal formation maldevelopment and sudden unexpected death across the pediatric age spectrum. J Neuropathol Exp Neurol 2016. 75(10):981-997.
6 Poduri, unpublished.