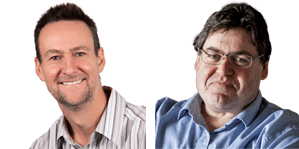 A new treatment for Dravet syndrome, a rare and catastrophic form of drug-resistant epilepsy, may soon be on the horizon thanks to the work of CURE grantees Dr. Glenn King of the University of Queensland and Dr. Steven Petrou of the Florey Institute of Neuroscience and Mental Health. Drs. King and Petrou identified a peptide found in spider venom which can reduce seizures and mortality in mice modeling the symptoms of human Dravet syndrome.1
The majority of Dravet syndrome cases are caused by mutations in a gene that lead to too little inhibition and too much excitation in the brain, triggering the hyperexcitability seen with seizures.2,3 Drs. King and Petrou found that the spider venom peptide works to restore the balance of inhibition and excitation in the brains of Dravet syndrome mice, decreasing hyperexcitability and reducing seizures. Furthermore, the team found that this peptide also decreases mortality in these mice.
Drs. King and Petrou next plan to investigate this peptide's effects on other symptoms associated with Dravet syndrome, such as anxiety, autistic traits, and sleep disturbance. They will also explore ways to develop this peptide into a treatment for epilepsy, including methods of delivering the peptide into the brain.
Besides providing a potential new treatment for Dravet syndrome, these results are especially important because they highlight the therapeutic power of venomous substances, Dr. King notes. These substances work due to their ability to target the brain and alter its activity. Dr. King is optimistic that venomous substances may also be used in the treatment of types of epilepsy other than Dravet syndrome, as well as other brain disorders.
We at CURE are also hopeful this line of research will open new treatment possibilities for rare and difficult-to-treat epilepsies. As noted by Dr. King, the overall goal of this research is to develop therapeutics that will reverse all symptoms of Dravet syndrome and enable those with the disorder to live normal lives.
1 Richards et al. Selective Nav1.1 activation rescues Dravet syndrome mice from seizures and premature death. PNAS 2018; 115(34):E8077-E8085.
2 Bender et al. SCN1A mutations in Dravet syndrome: Impact of interneuron dysfunction on neural networks and cognitive outcome. Epilepsy Behav 2012; 23(3):177-186.
3 Liautard et al. Hippocampal hyperexcitability and specific epileptiform activity in a mouse model of Dravet syndrome. Epilepsia 2013; 54(7):1251-1261.