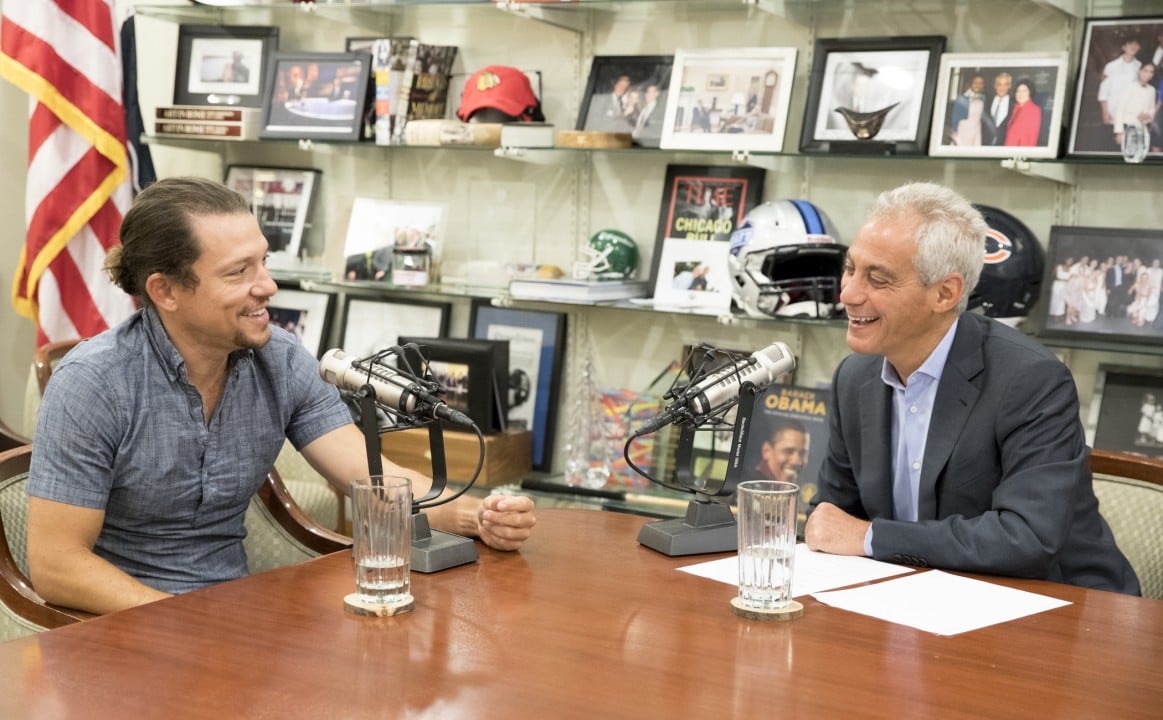 On this week's episode of "Chicago Stories" the star of Chicago's "Hamilton" Miguel Cervantes gives Mayor Emanuel his take on the smash-hit musical, shares the story of his hard-won career, and talks about his biggest role of all as "Dad" and raising awareness for childhood epilepsy.
Born and raised in Dallas, Miguel wasn't interested in theater growing up, at least not at first, but an audition for a local production in sixth grade planted the first step to a journey that took him to Dallas' Booker T. Washington High School for the Performing Arts, Boston's Emerson College, and then finally the bright lights of Broadway?—?or so he thought.
"When I graduated I went right to New York as the big fish in my school," Miguel said. "I thought: 'this is great, this is easy, this is going to be awesome,' and then crash and burn."
As Miguel told Mayor Emanuel, he wasn't ready. (Though, as Mayor Emanuel told Miguel, the real problem was New York wasn't ready for him.)
After a brief return home, Miguel hooked up with friends in Boston and embarked on an artistic rebirth that eventually brought him back to the Big Apple, but this time to a mix of Broadway, Off-Broadway, and touring productions.
"Opportunity comes at its own pace," Miguel said, "and sometimes your opportunity is not when you're 21 when you think you're ready?—?that may not be the right time for you."
For Miguel, opportunity came in a big way in 2016 when the mega-hit "Hamilton" was looking to recast its famous title role. Immediately once auditions started, Miguel could tell something was different.
"Three weeks later, after four auditions, I called my wife and said 'I think we're moving to Chicago,'" Miguel said.
Miguel's biggest role of all though has been as "Dad" to his six-year-old son and two-year-old daughter Adelaide, who at seven-months-old was diagnosed with epilepsy just as "Hamilton" was coming into his life.
As devastating as childhood epilepsy is, the news got worse after doctors discovered Adelaide had "infantile spasms," a particularly devastating form of epilepsy that can lead to severe developmental and cognitive delays.
Not knowing where to go or who to turn to, Miguel and his wife Kelly connected with the Chicago-based Citizens United in Research for Epilepsy, or "CURE," the nation's largest non-governmental organization funding epilepsy research.
"We got here terrified, just absolutely terrified," Miguel told Mayor Emanuel. "And we come to Chicago and the folks at CURE wrapped their arms around us and said 'we got you here.'"
Since then both Miguel and Kelly have become passionate advocates for epilepsy awareness through CURE, including their My Shot at Epilepsy fundraising campaign and the #MyShotAtEpilepsy Challenge.
Today, 3.4 million Americans suffer from epilepsy, including 470,000 children, while an estimated 65 million people currently life with epilepsy worldwide. Meanwhile, research is still underfunded, and comprehensive treatment for families like the Cervantes' is still a long way off.
"What we say is we may not be able to do so much for [Adelaide]—what we can actually achieve in her life may be limited," Miguel said, "but if we raise our voices and do everything that we can, at some point some parents will not have to go through what we have to go through."
Be sure to listen to the full episode as Miguel and Mayor Emanuel talk about the impact of "Hamilton," Chicago's theater community and culture of giving back, and where Miguel hopes opportunity takes him next.
You can check out the full episode on iTunes, SoundCloud, and Spotify.