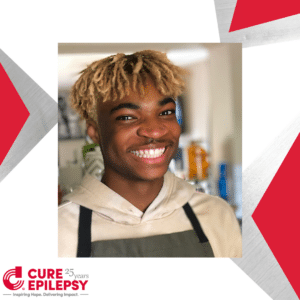 In support of Black History Month, we are highlighting some of the many Black individuals who are making a meaningful impact within the epilepsy community. Today, we want to share the inspirational story of Michael Platt, a teenage business owner, social entrepreneur, food justice advocate, and baker.
Michael had been an extremely active child, participating in gymnastics and swimming in addition to the "typical" childhood activities of riding his bike and climbing trees until he was diagnosed with epilepsy in fifth grade. When he was diagnosed, he was instructed to limit physical activity and his parents pulled him out of school to homeschool him. With his days entirely different than before and unable to enjoy his normal activities, Michael turned to baking which he had started to fall in love with after baking cakes with his grandmother. 
Since Michael was raised in a home of educators and advocates, he already had the drive to challenge injustice. When Michael was gifted a pair of TOMS shoes for Christmas, he was moved to create a baking business, Michaels Desserts, with a similar 1-for-1 model. For each dessert purchased, Michael gives a dessert to someone in need. Michael passes out his cupcakes at homeless shelters and domestic abuse shelters, and partners with other nonprofits focused on addressing food inequity. 
Michael recently released a cookbook, Michaels Desserts: Sweets for a Cause, that includes dessert recipes designed around inspirational social justice leaders and activists including Martin Luther King Jr., Harriet Tubman, and more. CURE Epilepsy is honored to have Michael as part of our epilepsy community. He is working to make the world a better place, one dessert at a time.