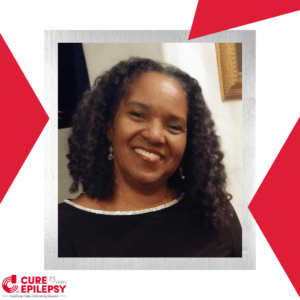 In support of Black History Month, we are highlighting some of the many Black individuals who are making a meaningful impact within the epilepsy community. First, we highlight the beloved Sherri Brady.
Sherri joined the epilepsy community when her daughter, Lauren, was diagnosed with Rett syndrome before her second birthday. Rett syndrome is a rare neurological disorder caused by a genetic mutation in which it is common for children to have more than one seizure type.
One day Sherri received a call from Lauren's daycare that Lauren was exhibiting strange behavior, so they asked Sherri to get to the daycare as quickly as possible. "And of course, I probably broke all speed limits and rules of the law to get to the daycare as quickly as I could," says Sherri, recounting that day. Sherri picked her daughter up and took her to the hospital, where doctors told Sherri that Lauren had suffered a febrile seizure. Shortly after, Lauren was diagnosed with Rett syndrome.
Sherri has become a Rett syndrome advocate and has been the Southern California regional rep for the International Rett Syndrome Foundation for over a decade. In that role, she has helped countless families navigate the complexities of managing the healthcare system and accessing available support services for those with Rett syndrome. For the past 20 years, Sherri has organized an annual picnic for parents of children with disabilities including two virtual picnics in 2020 and 2021 when the COVID-19 pandemic and resulting lockdowns led to unprecedented challenges for families with children with disabilities.
Sherri's impact on the epilepsy community and her drive to continue to improve the services for those with Rett syndrome are inspirational. CURE Epilepsy is grateful to Sherri for all she has done for the epilepsy community and to raise awareness about Rett syndrome.