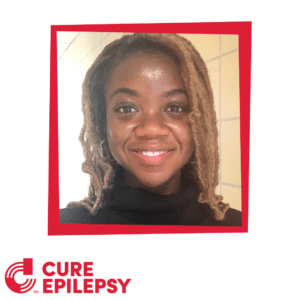 This Black History Month, we spotlight Sylvia Edoigiawerie and the work she is doing in the epilepsy field. Sylvia is an MD-PhD candidate at the University of Chicago Medical Scientist Program. She is currently working with Dr. Wim van Drongelen, a professor of pediatrics and neurology, Dr. Julia Henry, a pediatric epileptologist and Dr. Henry David, a pediatric neurocritical care specialist at Comer Children's Hospital. Her goal is to create quantitative tools for detecting seizures and monitoring other important EEG activity in critically ill newborns.
Newborns are at a high risk of seizures especially if they experienced ischemic brain injury at birth. Additionally, most infant seizures cannot be detected without EEG, and uncontrolled and undetected seizures can lead to devastating neurologic outcomes. The quicker seizures are detected, the quicker they can be treated.  As a result, infants at risk for seizures need to be monitored 24/7 by clinicians and a staff of EEG technicians. This manual monitoring process is slow and resource-intensive especially for under-resourced centers. This is where the tool Sylvia is working in the van Drongelen lab comes in to expedite seizure detection, lessen the time strain on the clinicians, and help find novel EEG patterns that can identify babies most at risk for poor outcomes.
Sylvia has been dedicated to and passionate about translational research since her undergraduate years at University of Maryland, Baltimore County (UMBC). Through the support of the Meyerhoff Scholars Program at UMBC, she discovered she could pursue a career as a physician-scientist. When she is finished with her MD-PhD training, she plans to become a clinician with the goal of taking practices "from bench to bedside" so she can help patients, including those with epilepsy, as quickly as possible. When asked what the most impactful moment has been in her career so far, she graciously replied "Every day I show up, is an impactful moment. Because every day I get to work with a supportive team of super smart clinicians, scientists, and techs, and every day I get to take steps that will hopefully make a difference in a child's life."
We are so thankful Sylvia is in the world of medicine and research. With her passion and talent, she will do many great things that will help our community and many others. Through research there is hope.