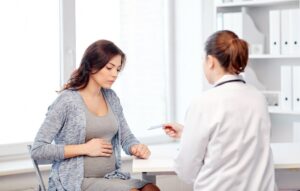 GPs, midwives, and others can use a new risk calculator to identify those pregnant women at high risk of seizures and to plan early referral for specialist input, to determine the need for close monitoring in pregnancy, labor, and after birth, and to assess antiepilepsy drug management, according to new UK-led research in PLOS Medicine. The study authors added that the model's performance is unlikely to vary with the antiepilepsy drug dose management strategy – and that it could save maternal and infant lives.
Researchers from Queen Mary University, London, pointed out that pregnant women with epilepsy are at 10 times greater risk of dying during pregnancy than women without epilepsy; that consecutive reports of the Confidential Enquiry into Maternal Deaths have issued warnings on the failings in antenatal, intrapartum, and postnatal management of women with epilepsy; and that up to four in 10 women discontinue their antiepilepsy medication in pregnancy because of concerns about the effects of drugs on their baby, thereby increasing their risk of seizures, and of complications from seizures. But despite this, they said, these women's high-risk status during pregnancy and after childbirth is often not recognized.
They set out to develop and validate a prognostic model, using information collected during the antenatal booking visit, to predict seizure risk at any time in pregnancy and until six weeks postpartum in women with epilepsy on antiepileptic drugs, using datasets from the prospective multicenter EMPiRE (AntiEpileptic drug Monitoring in PREgnancy) study.
They concluded: "The EMPiRE model performs well in predicting the risk of seizures at the time of antenatal booking in pregnant women with epilepsy who are prescribed antiepileptic medication. The model incorporates routinely available characteristics that are easy to measure, such as age at first seizure, type of seizures, seizures in the three months before pregnancy, mental health, admission to hospital for seizures during a previous pregnancy, and dose of antiepileptic drugs."