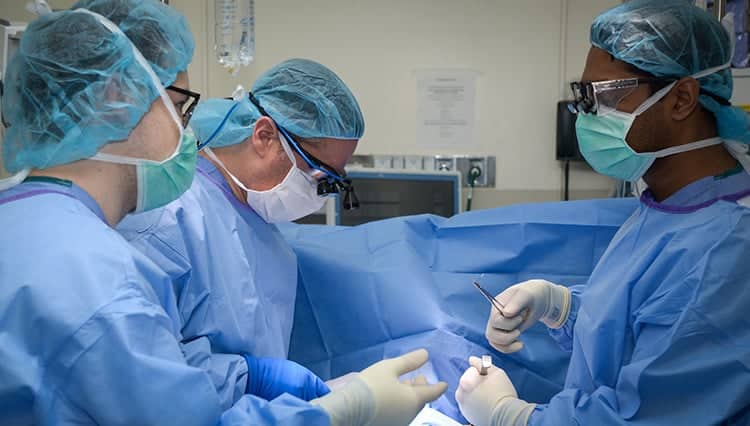 A clinical team from the University of Miami Miller School of Medicine's Comprehensive Epilepsy Center and the Department of Neurosurgery recently performed Florida's second deep brain stimulation (DBS) surgery for a patient with intractable epilepsy. The new treatment, which was approved by the FDA in 2018, offers a new therapeutic strategy for patients whose epilepsy cannot be treated effectively by medications or resective surgery.
"This is an important step forward in our program," said Andres M. Kanner, M.D., professor of clinical neurology, chief of the epilepsy division in the Miller School's Department of Neurology, and director of the epilepsy center. "Many patients can potentially benefit from DBS, one of the types of neuromodulation therapy, which consists of sending electrical pulses to the anterior nucleus of the thalamus and from that structure, to electric circuits of the brain involved in the development of epileptic seizures."
A pivotal study in the United States showed a significant decline in the frequency of seizures in 60 percent of 110 patients with previously uncontrolled epilepsy. The FDA has approved DBS for patients 18 years and older.
"While not curative, this therapy over time can yield a reduction of more than 50 percent in seizure frequency in about 60 to 70 percent of patients," Dr. Kanner said. "Our center is the only facility in South Florida offering this option for safe and effective improvement in seizure frequency." He noted that the Miller School center has received a level IV designation by the National Association of Epilepsy Centers for providing the most comprehensive evaluations and treatments for all forms of epilepsy.