Infantile spasms is a rare and particularly severe epilepsy syndrome that typically begins within the first year of life. Infantile spasms is characterized by subtle seizures which can have large neurological effects and an atypical EEG pattern; these symptoms can lead to large developmental delays and cognitive and physical deterioration.
The exact mechanisms underlying infantile spasms are not completely understood.
Sadly, many primary care doctors and parents alike are not familiar with the signs and symptoms of infantile spasms. So, many children with infantile spasms do not receive treatment during the critical window within the weeks and months after the emergence of symptoms. Many other children do not respond to available treatments for infantile spasms or these treatments have substantial adverse side effects, giving these children a dire prognosis.
CURE EPILEPSY'S INFANTILE SPASMS RESEARCH INITIATIVE
Since 2011, CURE Epilepsy has funded cutting-edge infantile spasms research. In 2013, grants were awarded to a team of investigators through a groundbreaking, multi-disciplinary 'team science' initiative to advance research to find a cure for this devastating condition. Collectively, the investigators studied the basic biology underlying IS, searched for biomarkers as well as novel drug targets, and developed improved treatments. The CURE Epilepsy Infantile Spasms Initiative generated 19 publications to-date, 7 additional manuscripts in preparation, 3 federal grants from the National Institutes of Health (NIH), and even a patent, published in October 2018.
CURE Epilepsy has been a Leader in Infantile Spasms by:
Awarding over 4 million dollars in infantile spasms grants to date
Developing a first-of-its-kind, innovative 'team science' infantile spasms initiative, in which a multidisciplinary group of investigators at different institutions functioned as a united team to further understand the mechanisms of infantile spasms and to progress towards treatments for the disorder. Meet the multidisciplinary research team:

Chris Dulla, PhD – Tufts University
Aristea Galanopoulou, MD, PhD – Albert Einstein College of Medicine
Jeff Noebels, MD, PhD – Baylor College of Medicine
John Swann, PhD – Baylor College of Medicine
Libor Velisek, MD, PhD – New York Medical College
Manisha Patel, PhD – University of Colorado Denver
Doug Nordli, MD – Children's Hospital of Los Angeles
Elliott Sherr, MD, PhD – University of California, San Francisco

Raising parent and physician awareness about infantile spasms by partnering with the Infantile Spasms Action Network (ISAN)
Quick Facts
Infantile spasms is a rare epilepsy disorder that is characterized by involuntary movements of the head (often a 'head drop'), trunk, and limbs, developmental delays or the loss of capabilities, and an atypical EEG pattern of large, synchronous disorganized brain waves (hypsarrhytmia).
Infantile spasms are also known as West Syndrome, after Dr. W.J. West, who first described the symptoms of "infantile convulsions" in his own son in 1841.
Perhaps the most important way to improve infantile spasms outcomes is to recognize the signs and symptoms and get children suspected of having infantile spasms evaluated by a trained medical provider. Consider using the STOP Infantile Spasms mnemonic developed by ISAN as an important starting point: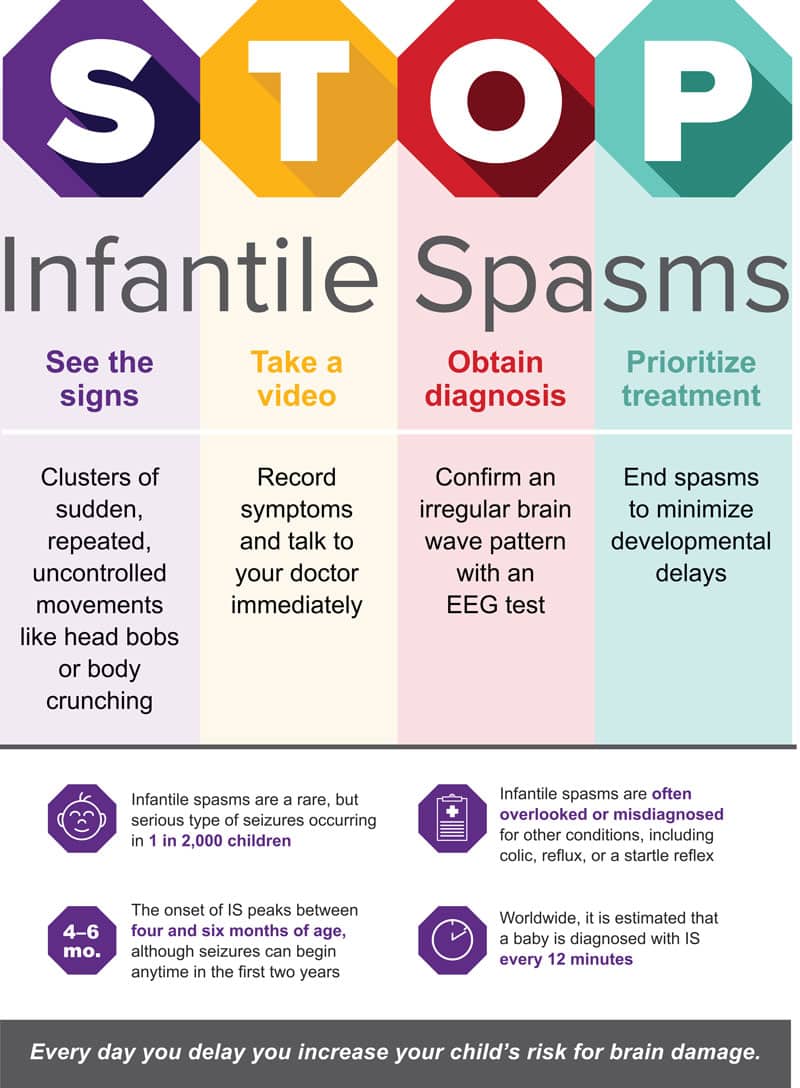 Questions about Infantile Spasms?