Ella's Race 2021
Sunday, August 29, 2021
10:00 am CDT
500 Block of N. Catherine Avenue, La Grange, IL, USA

Ella's Walk 2021–Sunday, August 29th
to benefit CURE Epilepsy

Video credit: ABC 7 Chicago Digital Team
Please sponsor a sign, walk with us and/or donate!
Signs: To recognize the 1 in 26 people that will develop epilepsy in their lifetime, we are placing signs every 26 feet along a one-mile route in our neighborhood. These signs are available for sponsorship at $100 each and then get to be customized by YOU! They can have messages of support, encouragement, epilepsy facts, etc.–you get to customize it! Not feeling creative or wish to stay anonymous? We'll be happy to fill your sponsored sign out with some messages of encouragement for you! Sponsoring a sign includes the walk registration for your family, which includes T-shirts!
Walk registration: A donation of $25 per walker is suggested, and that includes your walk T-shirt to wear that day!
Donate: Can't attend but still want to help us cure epilepsy? Make a tax-deductible donation!
Details
On Sunday August 29th, Ella will walk a one-mile route and see all the signs we have posted! We invite you to walk with us, or cheer her on! Please wear your event T-shirt, and we will have refreshments available this year. While we are unsure of what the COVID-19 protocols will be in August, we will be following all CDC guidelines for the event.
Location
The one-mile route will begin at the 500 block of N Catherine Ave in La Grange Park, head North on Catherine to Monroe, head west to Spring, head South on Spring to Woodlawn, back east of Catherine, and finally North on Catherine to the finish!
About Ella's Mile
First off, thank you for coming to visit our site! Our 11-year-old daughter Ella has severe epilepsy, and we're raising money in her honor to help support research in epilepsy. Ella was first diagnosed with epilepsy days after her first birthday. Since that day we have tried approximately 20 different medications, special diets, prolonged hospital stays, surgical consults, second/third/fourth/etc. opinions all in hopes of bringing her seizures under control. Unfortunately, she still has frequent seizures that, when combined with all the medications she takes, have significantly slowed her development. Yet despite the seizures, meds, hospital stays, blood draws,  and therapy appointments, Ella's indelible spirit remains untouched. She continues to be our driving force, attacking each new challenge with a smile. You can learn more about Ella here.
Unfortunately, epilepsy's reach extends far beyond just Ella, affecting over 3.4 million Americans, with 200,000 more cases being diagnosed each year. Approximately 50,000 deaths occur from seizures and seizure-related causes in the U.S. each year. CURE Epilepsy is the leading nongovernmental agency fully committed to funding research in epilepsy. CURE Epilepsy funds research grants for young and established investigators around the globe, and we believe these are the people who are going to be able to someday CURE our Ella. Finding a new and novel treatment and changing technology is currently our only hope for Ella to become seizure-free. CURE Epilepsy is constantly at the forefront of the epilepsy research community, and they are also very fiscally responsible with all the contributions they receive. We are proud to be volunteers for CURE Epilepsy, and Blake is also a Board Member for the organization. We are very passionate about this cause and believe CURE Epilepsy is the best agency out there to help us and Ella.
Waiver: In consideration of acceptance of this entry, I waive any and all claims for myself and my heirs against officials and sponsors of Ella's mile for illness and injury which may result directly from my participation.  I further state that I am in proper physical condition to participate in this event. I also give permission for the use of my name and/or picture in any public account of this event. No refunds will be issued.
CONGRATULATIONS!
WE SURPASSED THE GOAL!
GOAL: $50,000
TOTAL RAISED: $ 84,445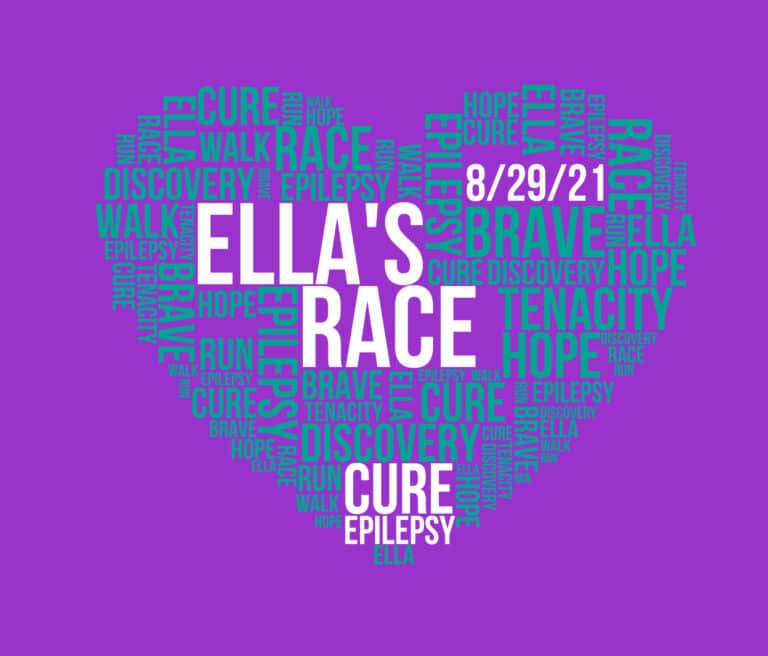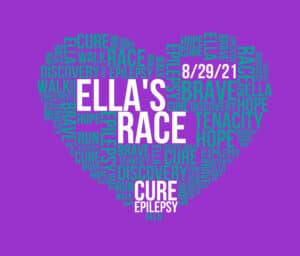 Blake and Shalee Cunneen
Anonymous
Debbie and Carl Adams
Vicki Allen
Hanan Almiladi
Silvia Alvarez Clare
Erin, Rich and Bennett Baranowski
Sharon Flaim and Bob Behar
Mary Beth Bell
Bridgid Bergstrom
Claire Biebel
Laurie Blackmon
Vanessa Blasco
The Bloom Family
Stephanie Boggess
Freebooks BookClub
Jane Boyce
Debbie and Tim Braxmeyer
Michele Buhle
Nicole and Nicole Buikema
Amy Carlstead
Mike Chilvers
Jennifer Coe
Lawrence and Joan Connelly
Sue Cook
Covey Family
Cheryl Cooper
David Cox
Kate Crook
Jack Cunneen
Sean Cunneen
Claire Cunningham
Brian Curran
Kelly Cusack
Pat and James Cunneen
Mary Kate Daniher
Sara and David Decoste
Melissa Diebold
Caroline Domagalski
Eileen Dorchinecz
Madelyn Dow
Julie Drainville
Jillian and Mark Dryfoos
Jessica Duer
Erin Dwyer
Meghan Elwess
Kathleen Elwood
Jodi Fadool
Charlene Fan
Lauren Fangman
Izabela Fitts
Sharon Flaim
Sara Fletcher
Bruce and Susan Frazin
Recia Frenn
Mary and Gene Gager
Nicole Blanco Gallen
Rachel Galloway
Maha Gardner
Carrie and Matthew Garman
Lily Garza
Mary Ellen Giese
Sherina T. Girardi
Susan Goldby
Nancy Golden
Laura Griffin
Nastassia Griffin
Tarra Grisz
Heidi Hampton
Tara Hanson
Kimberly Hare
Ann and John Herder
Alicia Herlihy
Catherine Hernandez
Bernadette Hill
Sharon Horan
Joseph Hovanes
Tiffany Howard
Kathleen Janak
Marybeth Janak
Stacie Janak
Megan Janssen
Linda Jensen
Elissa Johnsen
Shelly Davis Jones
Sarah Kalis
Jenny Kaminski
Ashley J. Kanney
Patrick Keenan
Barbara Keller
Barb Kelly
Akil Khalfani
Jackie and John King
Diane Klein
Christina Kmiec
Jennifer Kovacs
Michele Kowalski
Lynn Lach
Julie Lagnese
Frederick and Nikola Lambert
Catherine Landman
Jenny and Brad LaRocque
Emily Larsen
Ann Lee
Colleen Lee
Hannah and Vivian (Lemonade Stand)
Wendy Locke
Krissy Love
Tim Lovell
Aileen Lysaught
Nancy Madden
Courtney Mahaney
Ashley Makdad
Kristine Mangano
Erin Manning
Liam Manning
Sue and John Mardock
Glory Martinez
Nicole Marth
Joanna Mattia
Lindsay Mcdermott
Bryan McGill
Kathy and John McKenna
Kevin Melvin
Nancy Melvin
Lee Merrill
Bethany Mily
Heather Minchella
Michelle A. Mirza
Ryan Moe
Kelly and Tom Moran
Vikki Morris
Thomas Mulvihill
Bridgett Murray
Katherine Musielak
Lisa Nadle
Geetu Naik
Julie Narimatsu
Elizabeth Newman
Linda Norby
John Norton
Megan Novak
Dawn Gard OConnell
Jennifer Ogden
Jacqueline Paez
Alex Parker
The Patton Family
Monica Pawasarat
Tara Petersen
Julie Pinta
Colleen Pochopien
Meg Probst
Erin Raber
Maureen Rabus
Kristina Rediehs
Barbara Riccio
Jessica Rimkus
Gina Rinaldi
Melissa Roberts
Susan Robinson
Jennifer Robison
Jean Rosenzweig
Roudabush Family
Sharon Ryan
Patricia Salum
Claudette Sanchez
Adlija Santarelli
Andrea Schildgen
Bre Schneider
Carolina Schoenbeck
Lauren Schrero and Adam Levy
Maggie and John Serafini
Jamie & Katie Sewell
Colleen Sexton
Betsy Shea
Patrick and Bonita Shea
William Small
Tiffany Smith
Samantha Sordyl
Lindsey Sorensen
Caitlin Spain
Megan Styler
Jon Suttle
Warren Taranow
Terry Thompson
Codi Titus
Susan Tullis
Kelly Van Valey
Lauren Vaupell
Erika Vazzana
Christal Virgilio
Kelly Voie
Kayla Von Drasek
Susan C. Waggener
Joseph and Kate Washburn
Janelle Watanabe
Team Nick Watka
Lynn Watters
Jennifer Webb
Lisa Wilson
Jessica White
Nicole Wood
Natalia Velazquez
Margaret Yesko
Laura Zuppa