Epilepsy Awareness Month 2023 – The Epilepsy Journey
Wednesday, November 1, 2023 - Thursday, November 30, 2023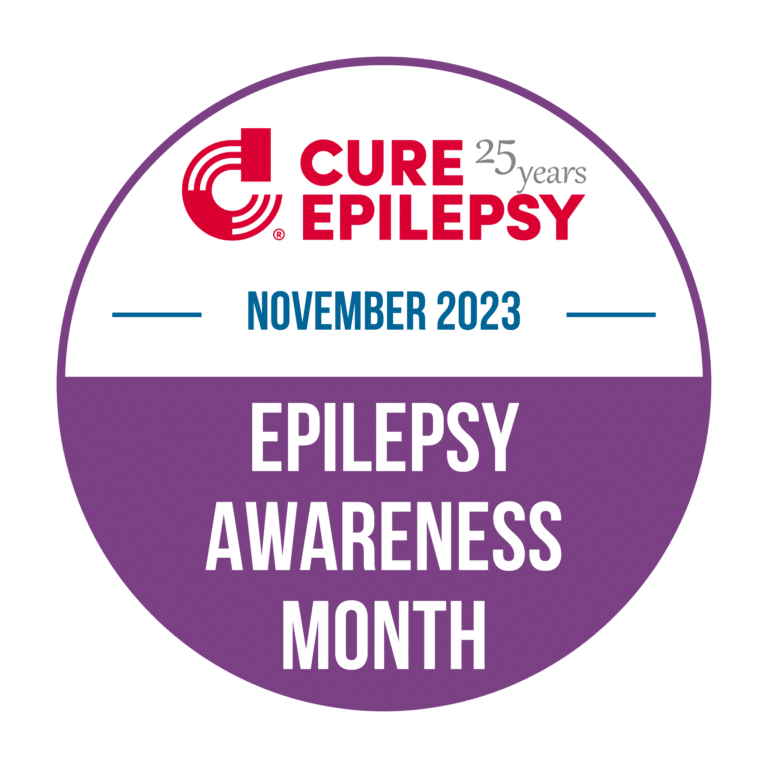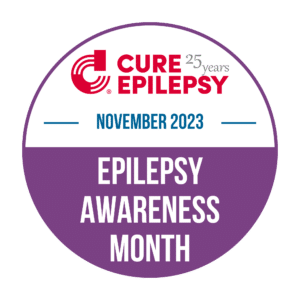 Thanks to the generous support of SK Life Science, all gifts made during Epilepsy Awareness Month will be matched up to $50,000! Make a gift today and double your impact!
Epilepsy Awareness Month takes place every November, and this year CURE Epilepsy is highlighting the journey 1 in 26 people will go through at some point in their lifetime — the epilepsy journey.
Each week of Epilepsy Awareness Month we will uncover a new point on the epilepsy journey map and release resources paired with that point in the epilepsy journey.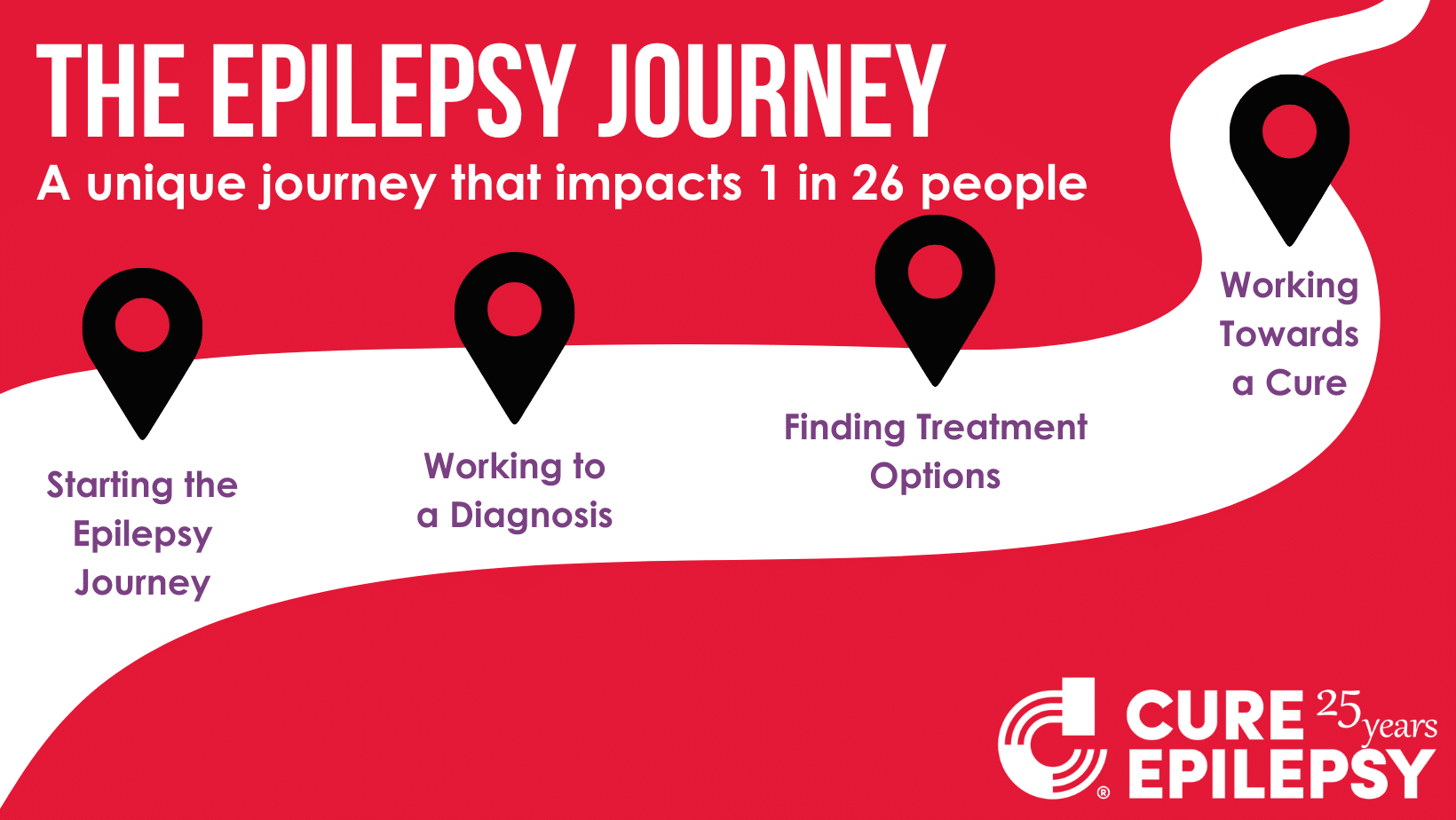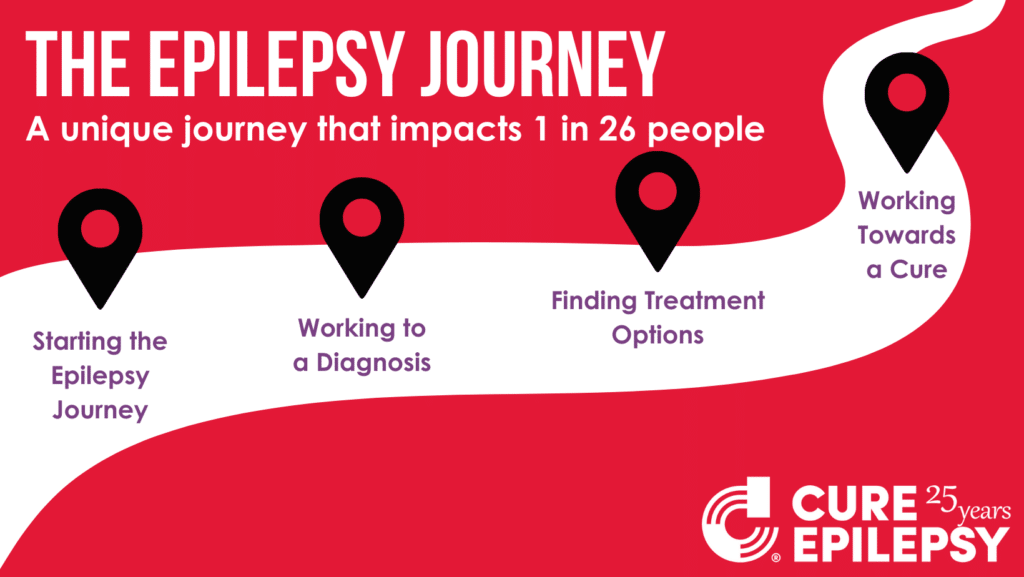 Step 1 of the journey: Starting the Epilepsy Journey
Step 2 of the journey: Working to a Diagnosis
Step 3 of the journey: Finding Treatment Options
Step 4 of the journey: Working Towards a Cure
Starting the Epilepsy Journey
Though this is the start of the epilepsy journey, it can happen at any point in someone's life. Some individuals start their journey when they are an infant while others start when they are middle-aged. Regardless of when you start your epilepsy journey, not knowing what is next can be difficult and you will have many questions. Below are some resources that can answer some of the common questions asked by those who are newly diagnosed. Remember to come back next week to see stop #2 on the epilepsy journey.
What is epilepsy? When a person has had two or more seizures more than twenty-four hours apart that have not been provoked by specific events such as a stroke, brain injury, infection, fever, or fluctuations in blood sugar, they are considered to have epilepsy.
What is the difference between epilepsy and a seizure?
Watch the full Seizing Life podcast episode here.
What are the different types of seizures? There are many different types of seizures and many different ways people can be impacted by epilepsy. While one individual might have a tonic-clonic seizure (formerly known as a grand-mal seizure) which consists of stiffness and repetitive jerking, other individuals can experience brief twitches of the eyelid (known as epilepsy with eyelid myoclonia (EEM), formerly known as Jeavons syndrome). Learn about all the seizure types here.
Working to a Diagnosis
Your epilepsy diagnosis may come within days of the start of your epilepsy journey, or it may come years later. If you are still working towards a diagnosis or if you are trying to determine the cause of your epilepsy, we suggest visiting an epilepsy center, which is a resource you can learn more about here.
Watch the full Seizing Life podcast episode here.
How is epilepsy diagnosed? A variety of medical professionals can diagnose epilepsy, including emergency room doctors, epileptologists, neurologists, and more. There are many methods that can be used to help diagnose epilepsy, including an electroencephalography (EEG) or a computed tomography (CT) scan. You can learn more about the methods used to diagnose epilepsy here.
What causes epilepsy? The cause is unknown for 50% of people living with epilepsy. For the other 50%, the causes can be broken down into five subgroups: structural, genetic, infections, metabolic, and immune. Learn more about each of these causes here.
Watch the full Seizing Life podcast episode here.
Finding Treatment Options
Thanks to research, there are more treatment options available now than ever before. Your doctor will likely first prescribe a medication as your treatment. If medications are not able to help you control your seizures, other available treatments include neurostimulation devices, surgery, and alternative therapies (including music therapy, medicinal cannabis, and more).
What kinds of neurostimulation devices are available? There are currently three FDA-approved devices made to reduce seizures: Vagus Nerve Stimulation (VNS), Responsive Neurostimulation (RNS), and Deep Brain Stimulation (DBS). You can learn about each of these devices, what they do, and how they are different here.
Is surgery for me? There are many factors taken into consideration when determining if an individual is a candidate for surgery. Talk with your doctor to determine if surgery is right for you. Click here to learn more about the different types of epilepsy surgeries.
Can CBD help with seizure control? The FDA has approved only one CBD product for medicinal usage, the prescription drug Epidiolex® (cannabidiol). It has been approved to treat seizures associated with Lennox-Gastaut syndrome (LGS), Dravet syndrome (DS), and Tuberous Sclerosis Complex (TSC) in patients one year of age and older.
No other CBD products have been evaluated to see if they are safe to use or effective at treating epilepsy. In addition, factors like the proper dosage, interactions with other drugs or food, use by specific groups such as pregnant people, or product consistency from bottle to bottle with CBD are unknown.
Working Towards a Cure
Epilepsy affects 65 million people worldwide. That's more people than multiple sclerosis, cerebral palsy, Parkinson's disease, and Amyotrophic Lateral Sclerosis (ALS) combined – yet epilepsy receives fewer federal dollars per patient than each of these. CURE Epilepsy is unrelenting in our mission to find a cure so that we can all live in a world without epilepsy. Current treatment options allow for 2/3 of individuals with epilepsy to attain seizure control, but for the other 1/3, there is no relief. And for all of these individuals, there is still no cure.
Does Epilepsy Stigma Impact Finding a Cure? Unfortunately, yes. Stigma, lack of discussion, and lack of awareness can all contribute to the unforgivably slow progress of finding a cure for epilepsy. That is why CURE Epilepsy was founded 25 years ago to move the conversation from how to "treat" epilepsy to how to find a cure for epilepsy.
How far has epilepsy research come? In the 25 years since CURE Epilepsy was founded, we have raised over $90 million to find a cure and funded over 285 grants across 18 countries. More epilepsy medications and treatments are available now than ever before thanks to groundbreaking research. With each grant, we are one step closer to living in a world without epilepsy.
How can I help find a cure for epilepsy? We are still raising money for research that will lead us to a cure. Thanks to SK Life Science, all donations made during Epilepsy Awareness Month will be matched up to $50,000! That means the impact you make will be doubled thanks to our generous Epilepsy Awareness Month Partner.