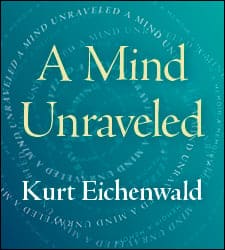 Kurt Eichenwald, an acclaimed and award-winning investigative journalist (The New York Times, Newsweek, Vanity Fair) and writer of bestselling books (Conspiracy of Fools, 500 Days, The Informant), is known for his relentless investigations and exhaustive research. A MIND UNRAVELED: A Memoir (Ballantine Books) utilizes the same approach—only this time, Eichenwald turns his journalistic lens on himself. Eichenwald is donating 50% of the royalties from sales of this book to CURE to help fund critically needed epilepsy research.
A MIND UNRAVELED is a deeply searing account of Eichenwald's ongoing struggle with epilepsy. Diagnosed with the disorder as a teenager, Eichenwald details the abuses he faced while incapacitated post-seizure, the discrimination he fought that almost cost him his education and employment, and the darkest moments when he contemplated suicide as the only solution to ending his physical and emotional pain. He recounts how medical incompetence would have killed him but for the heroic actions of a brilliant neurologist and the friendship of two young men who assumed part of the burden of his struggle.
Over 3.4 million Americans (65 million worldwide) have been diagnosed with epilepsy, and many more cases go undiagnosed. While it is the fourth most common neurological disorder and affects people of all ages, it is a rarely discussed condition. A MIND UNRAVELED finally gives the attention epilepsy deserves and serves as an inspirational message for not only those afflicted with the condition, but also for anyone grappling with challenges they feel compelled to keep secret. Eichenwald shows how facing his own morality ultimately made him a stronger person, and that it is possible to rise from despair to the heights of unimagined success.
ABOUT THE AUTHOR:
KURT EICHENWALD is a New York Times bestselling author of four previous nonfiction books. His second, The Informant, was made into a movie starring Matt Damon and directed by Steven Soderbergh. In addition to his distinguished work as a senior writer at Newsweek and a contributing editor at Vanity Fair, Eichenwald spent two decades as a senior writer at The New York Times, where he was a two-time finalist for the Pulitzer Prize. He is also a two-time winner of the George Polk Award, as well as the winner of the Payne Award for Ethics in Journalism and an Emmy Award nominee. He lives in Dallas with his family.