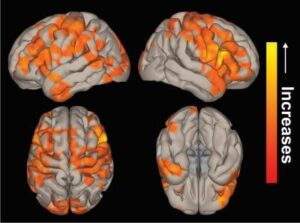 Successful epilepsy surgery can improve brain connectivity similar to patterns seen in people without epilepsy, according to a new study published in the journal Neurosurgery.
The Vanderbilt University Medical Center (VUMC) study of 15 people with temporal lobe epilepsy is the first to show improvements in brain networks after surgery compared to a group of healthy subjects.
Brain networks involved in the study are important for keeping the brain awake and alert, according to senior author Dario Englot, MD, PhD, surgical director of VUMC's Epilepsy Program.
"It's important to realize that, over time, seizures lead to brain network problems which may be related to cognitive deficits seen in patients with epilepsy," said Englot. "Our new results show some brain network activity can improve with surgery if you stop the seizures."