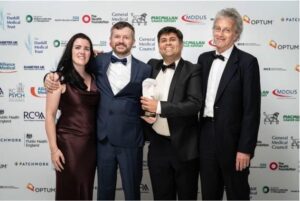 SUDEP Action claimed Education Team of the Year at the British Medical Journal (BMJ) Awards 2019.
Judges commented that the 'outstanding winner' of the category were two free lifesaving epilepsy safety tools; the digital app EpSMon for people with epilepsy, and the clinician tool, the SUDEP and Seizure Safety Checklist.
The charity is working on bringing the lifesaving solutions, which it says transforms epilepsy patient safety, to wider Oxfordshire and across the UK.
Sammy Ashby, SUDEP Action Deputy CEO and manager ofthe projects, said: "We're delighted that these projects have been recognized by this award; many people with epilepsy and their clinicians are not well supported to reduce their risks, yet these simple conversations and checks have the potential to save many lives each year."