What are Infantile Spasms?
Infantile spasms (IS) is a rare and particularly severe epilepsy syndrome that typically begins within the first year of life. Infantile spasms is characterized by subtle seizures which can have large neurological effects and an atypical EEG pattern; these symptoms can lead to large developmental delays and cognitive and physical deterioration. Because these spasms do not look like traditional seizures, primary care physicians and pediatricians can find it challenging to diagnose IS.
This often means that effective treatment for affected children is delayed, which can have dire consequences. And for those that are diagnosed accurately, many do not respond to treatment or have adverse side effects.
What is Infantile Spasms?
Read our research
Infantile Spasms: A Medical Emergency
Early diagnosis and treatment are critical.
Many primary care doctors and parents are not familiar with IS signs and symptoms.
Current standard treatment is a hormone (ACTH, prednisone) or anti-seizure medication (vigabatrin).
Not all children with IS will respond to treatment. There is no reliable way of predicting who will respond favorably.
The video below provides help understanding what signs to look for in a baby you believe has Infantile Spasms.
Understanding Infantile Spasms
Infantile spasms is a rare epilepsy disorder that is characterized by involuntary movements of the head (often a 'head drop'), trunk, and limbs, developmental delays or the loss of capabilities, and an atypical EEG pattern of large, synchronous disorganized brain waves (hypsarrhytmia).
Infantile spasms are also known as West Syndrome, after Dr. W.J. West, who first described the symptoms of "infantile convulsions" in his own son in 1841.
One in 2,000 children are affected by infantile spasms.1. 2
Perhaps the most important way to improve infantile spasms outcomes is to recognize the signs and symptoms and get children suspected of having infantile spasms evaluated by a trained medical provider. Consider using the STOP Infantile Spasms mnemonic developed by ISAN as an important starting point: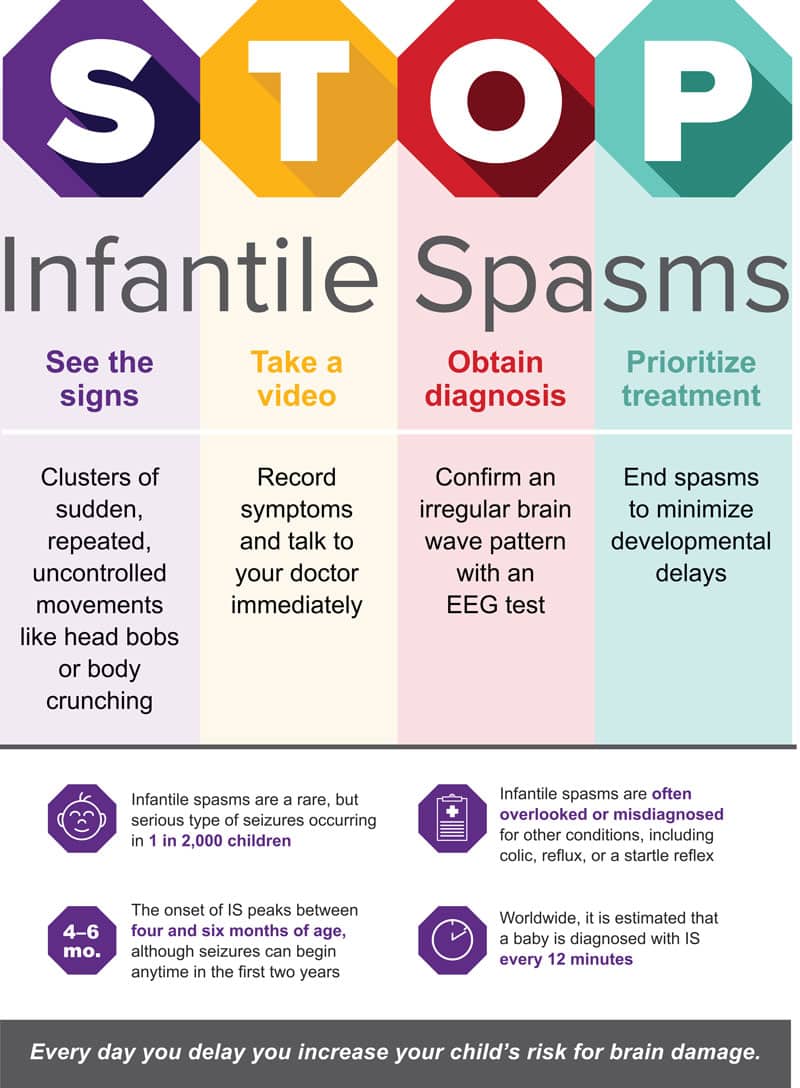 If you want to learn more about IS, watch these episodes of Seizing Life.
Infantile Spasms: Awareness, Observation, and Intervention
Infantile Spasms: Know the Signs and Take Action
1. Riikonen R. Epidemiological data of West syndrome in Finland. Brain Dev. 2001; 23: 539– 541.
2. Ludvigsson P, Ólafsson E, Sigurðardóttir
Questions about Infantile Spasms?