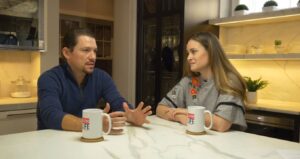 Join a global movement to promote epilepsy awareness for International Epilepsy Day on February 11! More than 120 countries participate, working to highlight the problems faced by those with epilepsy, their families, and caregivers. Read on to learn how you can support epilepsy research while spreading the word about how prolific epilepsy is.
Also in this update, learn about the Seizing Life podcast episodes which recently launched and get the details about the upcoming Day of Science event in Houston.
Best regards,
Laura S. Lubbers, PhD
Listen to the Seizing Life Podcast Now!
Seizing Life is available now! Watch or listen to full episodes on podcast platforms, including Apple Podcasts and Google Podcasts, or on seizinglife.org.
Check out out first three episodes:
Plus this month, look forward to an interview with CURE founder Susan Axelrod.
Never miss an episode! Subscribe to receive updates every time an episode airs.
Get Involved Online and In-Person for International Epilepsy Day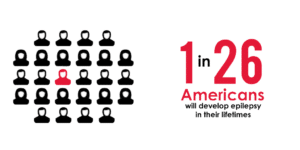 Join the CURE community in raising funds for research and spreading epilepsy awareness on International Epilepsy Day.
Set Up a Facebook Fundraiser: Ask your Facebook friends help you fund research to find a cure for epilepsy. Share why raising funds for epilepsy research is so critical and encourage people to donate! Click here for a detailed guide or set up your fundraiser now.
Spread Awareness on Social Media: Show your friends, family, and followers how widespread epilepsy is, as well as how vital better treatment options are to so many people around the world. Download and share stunning epilepsy statistics to your social media pages.
Visit Select Chicago Häagen-Dazs Shops: Attend Ice Cream for a CURE at Häagen-Dazs shops in Harlem Irving Plaza or Lincolnwood Town Center. When you donate to CURE, you'll receive 10% off one item. Also, a portion of the day's sales from each location will benefit CURE.
Houston: CURE Day of Science is Coming Your Way!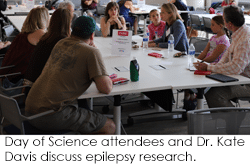 At the CURE Day of Science event in Houston, leading experts answer your questions about epilepsy. This free event on Saturday, March 30 gives those impacted by epilepsy and their families the chance to learn from researchers and physicians in an encouraging environment.
During Day of Science, a panel of epilepsy experts address audience questions and participate in small-group discussions over lunch with the attendees.
Join us for answers to questions, such as:
What targeted treatments have been developed due to the discovery of new epilepsy genes?
What factors must be considered when moving my child from pediatric to adult care?
What are the risks associated with epilepsy surgery?
What epilepsy drugs are currently in development and what types of epilepsy can they be prescribed to treat?
This event is made possible thanks to the generous support of the BAND Foundation and Sunovion.
Stay tuned: more Day of Science locations around the US will be announced soon!
Upcoming CURE Events
February 10: Ice Cream for a CURE – Chicago, IL
February 16: 24-Hour Livestream for a CURE – Online
February 16: Race for Epilepsy – Washington, NC
February 20: Quiz for a Cause Trivia Night – Chicago, IL
March 30: Day of Science – Houston, TX