In 2003, Congress passed a formal resolution declaring November as Epilepsy Awareness Month to end the stigma surrounding epilepsy and bring attention to this condition. Epilepsy is the fourth most common neurological disease in the US, however it is much less understood and receives significantly less funding than other neurological diseases. Take advantage of this month to talk about epilepsy – to a friend, to a colleague, to a family member.
Throughout this month, we'll be posting videos and articles on Facebook, Twitter, and Instagram for you to share to spread awareness about living with epilepsy. In addition, our exciting My Shot at Epilepsy Raffle (which you can read about in this update) will raise funds to support CURE's work while giving you the chance to attend the final Chicago Hamilton performance LIVE!
And there is more to share. In this update, please find information about:
How CURE Champions Run Toward a World without Epilepsy
Don't Throw Away Your Shot to see the FINAL Hamilton Performance in Chicago!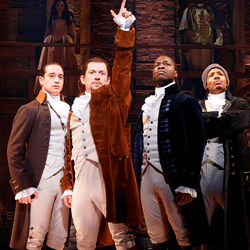 The final Hamilton performance in Chicago is on January 5, and with our My Shot at Epilepsy Raffle, you have the chance to see it LIVE! The winner will receive two tickets to this amazing night, delicious meals at the restaurants of celebrity chefs Rick Bayless and Stephanie Izard, travel to and accommodations in Chicago, and more.
Don't be stuck asking "what'd I miss?" Donate here to secure your raffle entries today!
Your Donations Go Twice as Far on #GivingTuesday
Learn More
#GivingTuesday is a global movement happening on December 3 that harnesses the generosity of millions to support causes dear to them. It's a chance to give back and know that CURE is grateful you as part of a community who recognizes and supports us.
The best part is that you can double your impact on December 3 thanks to a generous donor who will match every dollar raised up to $25,000!
Join the movement by creating a Facebook Fundraiser and getting your friends involved or by donating on #GivingTuesday through the CURE website.
#RunLikeaChampion: Team CURE Raises over $100,000 for Research in its Inaugural Year
Join Team CURE
This year Team CURE raced onto the running scene to support vital epilepsy research. These dedicated CURE Champions raised over $100,000 from neighborhood fun-runs, 5k races, and marathons.
We are incredibly grateful to all our runners and to everyone who came out to support them. Thinking about joining Team CURE? Contact our Outreach Team at Events@CUREepilepsy.org and be sure to stay tuned for details on the exciting 2020 Team CURE schedule, featuring races across the country!
New from Seizing Life, a CURE Podcast
Watch or Listen
Dive into the latest episodes of Seizing Life, where we explore:
Rebroadcast: In honor of the book A Mind Unraveled launching in paperback, listen to one of our first episodes featuring Kurt Eichenwald.
Rebroadcast: For SUDEP Action Day, we shared a very important episode all about SUDEP.
This podcast is available on Apple Podcasts, Spotify, and anywhere you like to listen!
Be Inspired at the 2019 Annual Chicago Benefit
Learn More | Sponsor | Tickets
Join us on Monday, November 18 as we honor children whose lives have been touched by epilepsy and the researchers who propel us toward a cure.
By supporting the Annual Chicago Benefit, you'll fuel vital research that will drive us toward a world without epilepsy and seizures.
Upcoming CURE Events
November 9: Dressage for a Cause – Batavia OH
November 18: CURE 2019 Annual Chicago Benefit – Chicago, IL
December 3: #GivingTuesday – Online