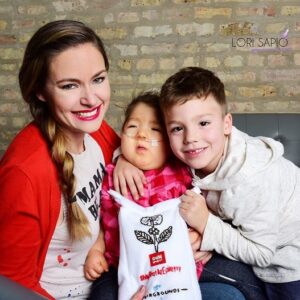 Greetings from the Epilepsy Awareness Expo at Disneyland Resort!
With so many events around the country happening now for Epilepsy Awareness Month, I want to take a moment to express my gratitude to you, the incredible epilepsy community. You helped raise a record-breaking $2.3 million for CURE's 20th Anniversary Benefit! With your support, we will continue driving epilepsy research forward.
Though the Benefit is over, Epilepsy Awareness Month events and campaigns, such as CURE's webinar on epilepsy and stigma, #GivingTuesday, and the #MugsForAdelaide giveaway, are bringing epilepsy and the need for a cure into the spotlight. Read on to learn more about these events.
Also in this update…
Best regards,
Laura S. Lubbers, PhD
Free Webinar on Separating Stigma from Truth: Epilepsy Research and Resources
Dive into the science of epilepsy stigma and gain tools to combat harmful stereotypes during CURE's free webinar, Separating Stigma from Truth: Epilepsy Research and Resources. This free webinar and live Q&A is happening Wednesday, November 28 at 11:00am CT.
Learn what research reveals about public attitudes and beliefs towards epilepsy, as well as how likely people with epilepsy are to encounter stigma. Ann Jacoby, PhD, reviews how negative stereotypes affect quality of life and discusses what communities can do to reduce epilepsy stigma.
Bring your questions for the live Q&A! You can ask Dr. Jacoby questions, such as:
What should I do if I believe I'm being discriminated against due to my epilepsy?
What resources are available to help me or my child talk more openly about epilepsy?
What difference is there in how epilepsy affects people from differing cultures or social statuses?
On #GivingTuesday, Show the World How Much Epilepsy Research Funding Means to You
Get ready to join the #GivingTuesday movement on Tuesday, November 27! Show the world why epilepsy research matters to you by giving to CURE, posting to social media with the hashtag "#GivingTuesday", and asking your friends and family to do the same.
Plus, double your #GivingTuesday impact by starting a Facebook fundraiser! Facebook and PayPal are matching up to $7 million dollars in donations made on Facebook for #GivingTuesday. Start your Facebook fundraiser on November 27 and get your Facebook friends involved.
Learn how to start your Facebook fundraiser
How Your Holiday Shopping Can Support Epilepsy Research
Did you know your Black Friday and Cyber Monday shopping could help fund epilepsy research? When you click here, Amazon will donate 0.5% of your eligible purchases to CURE at no cost to you. Be sure to click the link, then shop on smile.amazon.com this holiday season!
In addition to AmazonSmile, you can support epilepsy research and find the perfect gifts for friends and family through other organizations, such as Giftfluence.
Give the Gift of Awareness: A Mind Unraveled, a Memoir by Kurt Eichenwald, is Available Now
A Mind Unraveled, the latest book from New York Times bestselling author Kurt Eichenwald, reveals everything about his experiences living with epilepsy. The goal of this book is not only to show those with epilepsy they can accomplish what they want in life, but also to educate the general public about epilepsy, tackling the stigma head-on.
A Mind Unraveled discusses what onlookers should do when someone has a seizure, the risk of SUDEP, terrible potential side effects of antiepileptic drugs, and what forms epilepsy stigma and discrimination can take.
50% of the royalties from A Mind Unraveled support CURE's mission to find a cure for epilepsy. This holiday season, purchase a copy for your friends and family to spread epilepsy awareness and fund vital research.
Chicago: Enter to Win a HAMILTON VIP Experience and Spread Epilepsy Awareness
Enter the #MugsForAdelaide giveaway for the chance to win two tickets to the Chicago production of HAMILTON, as well as a backstage tour with Miguel Cervantes!
Chicago businesses are serving Adelaide's Blend coffee during Epilepsy Awareness Month to spread awareness around the critical need for a cure. This coffee is named in honor of Adelaide Cervantes, daughter of HAMILTON Chicago star Miguel Cervantes and CURE board member Kelly Cervantes. Adelaide has infantile spasms, a rare and severe form of epilepsy.
Fairgrounds Coffee, creator of Adelaide's Blend, donates 20% of the proceeds from the sales of this coffee to CURE.
Don't live in Chicago, but want your own bag of Adelaide's Blend? Order your coffee online.
Today: Join Us for Epilepsy Awareness Day at Disneyland Resort
Let's paint Disneyland purple at Epilepsy Awareness Day at Disneyland Resort! This family-friendly event happening today, November 7 unites epilepsy patients, families, doctors, researchers, and organizations.
Head to Disneyland Park to enjoy the rides, build lasting friendships, and spread epilepsy awareness.
Next CURE Events
Epilepsy Awareness Day at Disneyland Resort – November 7
1:26 The Art of Epilepsy Art Show and Wine Tasting in San Francisco – November 10
Speaking of Seizures Poetry Slam – November 10
Understanding and Coping with the Risks of SUDEP – November 15
Walk With Me Art Exhibition – November 24
Webinar on Separating Stigma from Truth: Epilepsy Research and Resources – November 28